Impactor Breaker
8/10/2012 2:13:17 AM
The Installation and Debugging of Impact Crusher.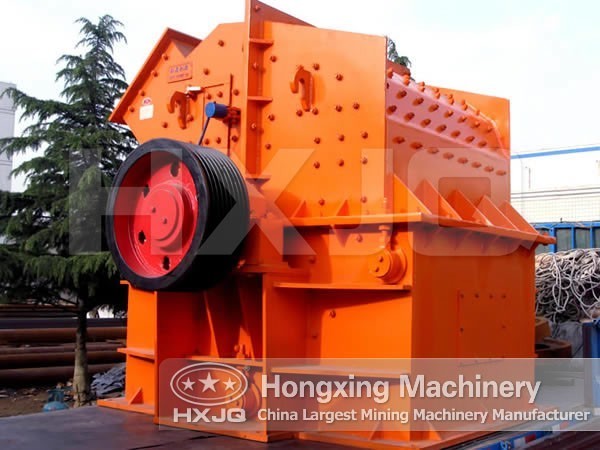 Installation
(1) Impact crusher electromechanical pump is equipped with vibrating unit, so it is necessary to tighten all fasteners during installation and before test run as well as in the production operation-- we should check them regularly and fasten them timely.
(2) We should pay attention that the rotation direction of impact crusher (belt pulley is marked with rotation direction arrow) is irreversible while installing.
(3) Equip with belt guard based on the installation situation after installing.
(4) The gap between impact plate and the board hammer should be gradually reduced according to practical situation; after which, rotate rotor for several circles to check whether there exists collision. After adjustment, lock sleeve nut lest impact plate colliding board hammer and cause accident.
(5) Because of the discharge port of impact crusher is in the underpart, so the mounting height as well as the cooperation way with feeding and discharging should be considered in system design.
Debugging
1, Because the rotor has passed the equalization treatment at the factory, so users generally do not need to strike a balance test, while they should set balanced configuration when replacing the hammer and rotor parts.
2, Main engine installation should be adjusted to be balanced, the levelness error of principal axis should be limited within 1mm / m, the driving and driven wheel should be kept in the same plane, belt tension should be adjusted to be appropriate and the motor is fixed.
3, Check whether the components installation location is moved or deformed, tighten all bolts and check the sealing situation.
4, Check the electrical box wiring and fastening, adjust time-delay relay and overload protection device, connect the circuit, test the motor rotation and select the appropriate specifications of fuse.
5, Check the reliability of hydraulic system and whether there exist osmosis.
6, Remove the foreign body leaving in crusher chamber; move rotor to check for friction and collision.