Bucket elevator
11/7/2012 1:15:52 AM
The bucket elevator has the advantages of large conveying capacity, high lifting height, stable and reliable operation, long service life and others. The performance and parameters of the bucket elevator produced by Henan Hongxing Mining Machinery Co., Ltd. can meet the international advanced standard. The bucket elevator is suitable for conveying powder, granular, small block and abrasive materials, such as coal, cement, stone, sand, clay and ore. Since the traction structure of the elevator is a ring chain, it can allow the conveying of high-temperature materials. The temperature of the materials does not exceed 250℃. The general conveying height can be up to 40 meters.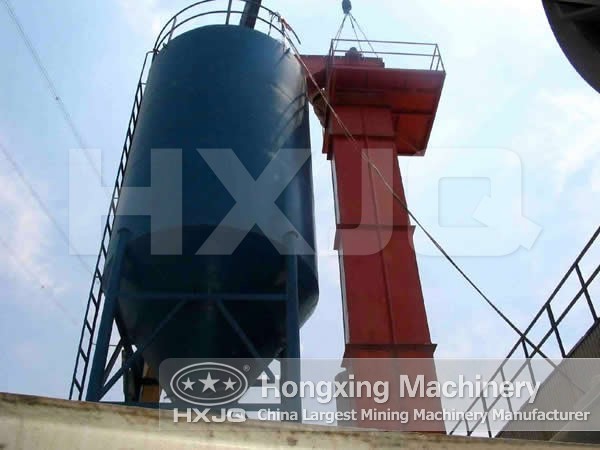 The bucket elevator is a kind of vertical continuous conveying machine with large inclined angle to transport the materials. Due to the simple and compact structure of the bucket elevator, it can be used to lift the powder and can also be used to lift the granular materials and fragmentized materials. Therefore, it is widely used in industries such as grain and oil and food.
In actual use, we should correctly operate the bucket elevator to reduce the incidence of failures.
First, the bucket elevator should start with empty load. After the normal operation, you can feed materials into the lifting plate. The feeding should be average in order to prevent the base from clogging. If the base is clogged, you must immediately stop feeding and open the flapper to clear the clogging materials in the base. You can re-feed when the hopper belt runs normally.
Second, before stopping the machine, you should first stop feeding. After the materials are basically discharged out, you can stop the machine.
Third, adjust the adjustment screw on the base if there is deviation or slip of the hopper belt.
Forth, in order to extend the service life of the equipment and ensure normal operation, you should periodically check the fasteners and the hopper. Immediately repair or replace the machine parts when you find there is attrition or deformation.