HXJQ Cone Crusher is the Best in Domestic Ore Crushing Industry
11/8/2013 11:07:36 PM
Hongxing cone crusher is the best in domestic ore crushing industry, and our equipment is constantly innovated and upgraded and can lead the development of domestic crusher equipment. Recently Hongxing spring cone crusher reaches a new level with newly adopted technology.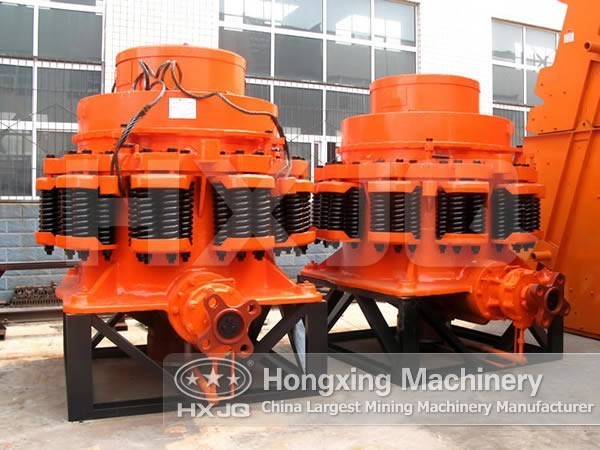 Cone crusher is a commonly used crushing machine in crushing production line and the main features of this machine include low energy consumption, wide crushing range and low running cost. To avoid that the machine cannot satisfy the crushing requirement of some stone materials and to reduce the costs in the changes of quick-wear parts and maintenance for the customers, when improving the technology, Hongxing Machinery also introduces new technology and refers to foreign advanced design experience of cone crusher and carries out deeper research on the wear-resisting performance, production efficiency and energy conservancy and environmental protection problem of the crusher. The cone crusher researched and developed by our company has great improvement in crushing technology and production performance.
In the present stone production line, hammer crusher, jaw crusher and cone crusher are the indispensable equipment for most customers. Compared with other types of crushers, cone crusher is researched and developed very late, but its development speed in our country is very fast. For this reason, it has got high popularity in recent production and been more and more widely used. When such industries as mining and mining machinery are developing towards green and environmental protection, the performance of cone crusher needs further improved on previous basis to satisfy the production requirement of domestic and foreign market for the crushing equipment and to realize energy conservation and consumption reduction.
The recent hot sales of HPC hydraulic cone crusher is closely related to the rise in price of the international ore and the market expansion of domestic iron and steel enterprises. With the constant rise of the iron ore prices, the ore quarrying gets new motivation, which stimulates the market demands for crusher equipment. In addition, to accelerate the production, grasp the market opportunity and quickly realize efficient benefits, many mining companies prefer to adopt HPC hydraulic cone crusher with big power, high efficiency and high stability.