The Wide Application of Tyre Type Mobile Crusher
2/24/2014 1:35:12 AM
Relevant experts point out that in the brick made of construction waste, the content of construction waste can generally reach 70%-80% and some types of bricks are totally made of construction waste. The compression strength of such common cement brick made with this matching of fine aggregate and cement paste exceeds national standard and reach as high as 30MPa, which is far for higher than common solid brick and vitrified brick. Compared with common sand materials, the processed construction waste aggregate can save more money and energy and protect the environment while ensuring the strength.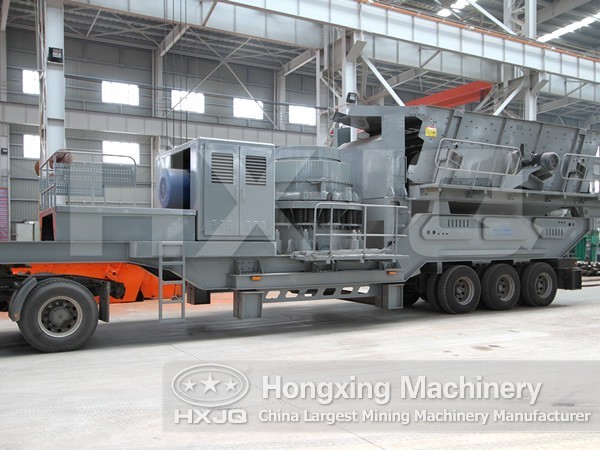 As early as in 2010, Hongxing Machinery has launched mobile crushing plant series of products to the market used for dealing with construction waste. The recycled and processed construction waste aggregate has lower cost. At the same time, the brick made of construction waste aggregate has better heat-shielding performance and is more energy-saving. Hongxing tyre mobile crusher effectively solves the barriers brought to the crushing work by scattered construction waste, crushing site and environment and complicated infrastructure configuration and it is a new type of crusher machine with flexible configuration, big crushing ratio, simple structure, high efficiency and low cost.
As is known to all, the factor limiting the exploitation of mining resources is mining machinery, the exploitation and processing of mineral resources cannot go without the technical and equipment support provided by mining equipment. Faced with the implementation of the plan of China going out the world for mineral ores, insiders generally think that the implementation of this plant greatly promotes the highly efficient development and long-time utilization of mineral resources and is also an overwhelming power for the mining machinery industry. To satisfy the need of open-pit mining of mineral resources, Henan Hongxing Mining Machinery Co., Ltd. has successively researched and manufactured mobile jaw crusher, mobile impact crusher, mobile cone crusher, primary crushers and multi-combination mobile breakers, and these machines are all equipped with different types of crusher machines such as jaw crusher, tertiary crusher, impact crusher, HPC hydraulic cone crusher and VSI eccentric impact crusher. All the crushing equipment is researched and manufactured by professional technicians according to the specific need of customers.
Tyre mobile crusher is a new type of mobile stone crusher machine launched by Henan Hongxing Mining Machinery Co., Ltd and it has its advantages compared with the crawler-type crusher mobile which is launched at the same time. Our company is able to provide whole set of equipment for mobile type stone production line for customers and the trucked mobile crusher has been widely used in many industrial departments such as mine, metallurgy, building material, railway, highway, water conservancy and chemical industry.