Features of Energy-saving and High-Efficient Combination Crusher
3/3/2014 11:52:40 PM
Combination crusher is usually used for crushing iron ore, sand ore, gypsum, blast furnace slag, gangue and lump coal. After long time of using, this crushing equipment will be covered by dust which will influence its normal operation and shorten its service life. High-efficiency vertical combination crusher is a new type of compound crusher which has obvious advantages compared with traditional vertical combination crusher, so that it has wider application. Here Hongxing Machinery will analyze the features and its application in the industrial production of energy-saving and highly-efficient combination crusher.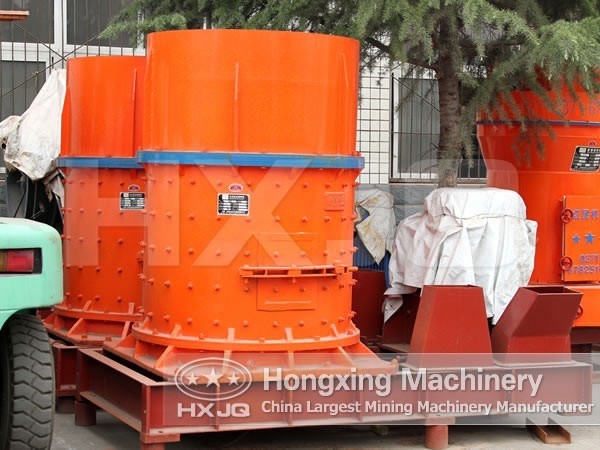 1. Big crushing ratio. The biggest feeding granularity of energy--saving and highly-efficient combination crusher is 80~240mm and the proportion of materials whose discharging granularity is smaller than 3mm accounts for over 70%.
2. High output. As the crushing process is through crushing, the materials have high through amount and high through speed, for this reason, the machine has high output and low energy consumption.
3. High efficiency and energy conservancy. Equipped with powder grinding plant, this crushing machine can improve the output of the grinding mill by 40% and reduce the electricity consumption of the system by about 30%.
4. Fewer quick-wear parts and long service life. The quick-wear parts are made of multicomponent alloy wear-resisting materials with high hardness and high tenacity. The clearance between hammers and impact board can be finely tuned to ensure even product granularity, thus greatly improving the utilization ratio of hammers and extending service life of the machine by five times.
5. High usage of energy. The optimized design of rotor part and crusher machine forms multi-level and continuous crushing machine, which can make full use of the energy and space, thus improving the performance of the crusher equipment.
6. High utilization of materials. The material dumping tendon and unique material dumping disk structure cross-distributed around the material dumping lining board can be repeatedly used, which greatly improves the utilization of materials and reduces the use cost.
7. Excellent combination property. Hongxing compound crusher has stable operation, low noise, small vibration, good sealing property, convenient operation, small floor space and convenient installation and maintenance.
Henan Hongxing Mining Machinery Co., Ltd. is engaged in manufacturing combination crusher, vertical compound crusher, jaw crusher, cone breaker, roller crusher and highly efficient crushing machine. Our company sees quality as life and customers as God, and all our machines have perfect test means, novel design, reliable performance and convenient operation, so that customers can purchase the desirable equipment with the reasonable domestic price to get the maximum interests.