Brief Introduction to Cement Mill
Cement mill is one of the main cement making machines and is the vital equipment for re-grinding the materials after they are coarsely crushed and it plays a crucial role in the cement production line and cement making production flow.
China cement mill is widely used for the dry and wet grinding of all kinds of ores and other grindable materials in the production industries of cement, silicate product, new type of building material, refractory, fertilizer and glass ceramics.
Performance Characteristics of China Cement Mill
China cement mill is composed of feeding part, discharging part and drive part. The hollow shaft uses steel casting and the inner lining can be dismantled and changed.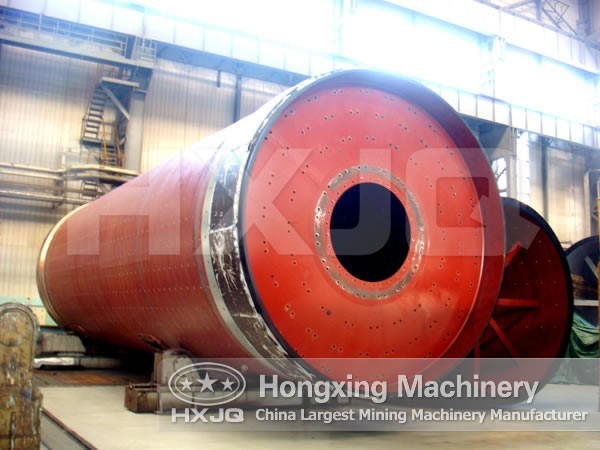 The rotary rack wheel is processed by casting gear; and inside the cylinder there is wear-resisting lining board with good abrasion performance. This cement mill has stable operation and reliable working condition. According to the material types of the discharging method, the customers can choose dry type cement mill or wet type lattice cement mill.
Operational Principle of Cement Mill
When the cylinder of the grinding mill rotates driven by the transmission gear, under the inertial centrifugal force, the grinding media will stick onto the lining board on the internal wall of the cylinder of the grinding mill and rotate together with the cylinder. The grinding media are brought to a certain height, and then fall down under the gravity, and during this process, the grinding media will crush the materials inside the cylinder, and at the same time the grinding media repeatedly move up and down inside the rotating grinding mill and will have sliding and rolling movement, so that the grinding media, the lining board and the materials to be ground will grind with each other, so that the materials are crushed to a finer granularity.
Parameters type
Product specification
(m)
Milling form
Transmission form
Gear box
Motor power
(kw)
Production capacity
(t/h)
Total weight
(t)
Model
Speed reduction ratio
Φ1.83×7
Open flow
Brim
ZD60
4.5
245
6.5-8
43.8
Φ2.2×7.5
Open flow
Brim
ZD70
5
380
8-10
64.8
Φ2.2×11
Open flow
Brim
D110
35.5
630
12-13
104.6
Φ2.2×13
Open flow
Brim
D110
35.5
630
16-18
114
Φ2.4×13
Open flow
Brim
D110
35.5
800
20-23
130.6
Φ2.6×13
Open flow
Brim
MFY100
19.5
1000
28-32
158
Φ3×9
Circle flow
Brim
D125
41.2
1000
28-36.5
167
Φ3×11
Circle flow
Brim
D140
42.8
1250
36-47
180
Φ3.2×13
Open flow
Brim
D140
36.5
1600
45-50
225
Φ3.5×13
Circle flow
Brim
JDX1000
5.84
2000
60-65
275
Φ3.8×13
Open flow
Central shaft
MFY250
16.5
2500
60-62
320
Φ4.2×13
Open flow
Central shaft
JQS3550
15.6
3530
85-87
380
Φ4.6×14
Circle flow
Central shaft
JSI160-C
14.6
4200
120-135
485
Quick Way To Get Price
Note: For product inquiry or order requirements, Please fill the following form, and we will contact you within one business day, and all your information is kept confidential and is not shared with any third parties.