Rotary kiln belongs to building material equipment, and it can be divided into cement kiln, metallurgy chemical kiln and lime kiln according to different materials.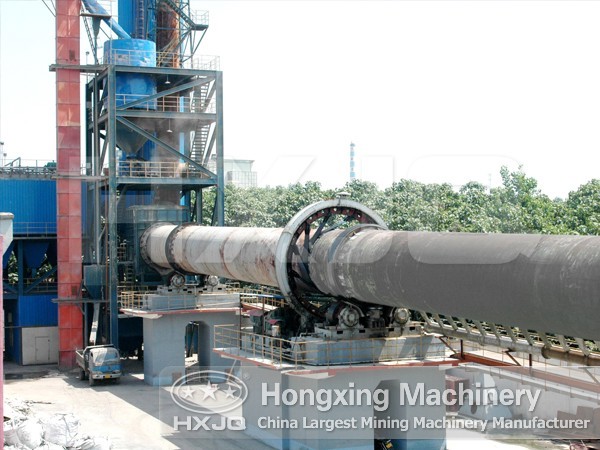 Structural Featuers of Rotary Kiln
1. Supporting device apply rolling bearing ( few with sliding bearing) to simple the bearing structure to slow down the kiln power consumption and it also improve the maintenance and inspection conditions.
2. Catch wheel: including two kinds mechanical wheel and hydraulic pressure
3. Gears: single or double. Control the rotating speed by buncher, DE machine and frequency variable motor. Be reliable, energy-saving, and efficient.
4. Cylinder type bolster: lower bolster has three types: fixed, zoom and floating. The structure is simple, replacement is convenient and won't hurt cylinder.
5. Sealing equipment: there are many kinds for choice according to kiln models, including air cylinder edge sealing, spring edge sealing, and graphite block sealing and combination for above. The feather is adaptive for cylinder rotating and swing. And sealing effect is very good.
6. Kiln head hood: including stationary type and flexible type.
7. Transmission device apply speed adjustable motor with big speed adjustable range, stable operation, easy to maintenance advantages. Our Rotary Kiln has slow disk kiln structure, which is composed by Diesel engine, gearbox, etc. It could continue to operate when electric stops, its operation is very flexible and convenient and easy for the kiln maintenance and inspection.
Two Main Types of Rotary Kilns
Cement kiln is used for making of cement clinker and there are dry and wet methods to make cement. Metallurgy chemical kiln is used for magnetic roasting of iron ore and oxidizing roasting of chrome and nickel in the steel factory; baking high-alumina mine in the refractory material factory; baking chamotte and alumina in the aluminium factory and baking chrome ore and chrome powder in the chemical plant.
Lime kiln is used for baking active lime and dolomite in the steel factory and ferroalloy factory.