Table concentrator, which is also called shaking table or concentrator table is a mine selecting machine for fine materials working by gravity. Shaking concentrator is widely used in the selection of tin, tungsten, gold, silver, lead, zinc, tantalum, niobium, iron, manganese, ferrotitanium and coal.
Hongxing Machinery has long history of shaking table production and insists on constant innovation. We provide a variety of concentrator tables with high processing capacity, high recovery rate and high enrichment ratio and our company has large scale, advanced technology, good after-sale service and reasonable concentrator table price. Welcome new and old customers to order!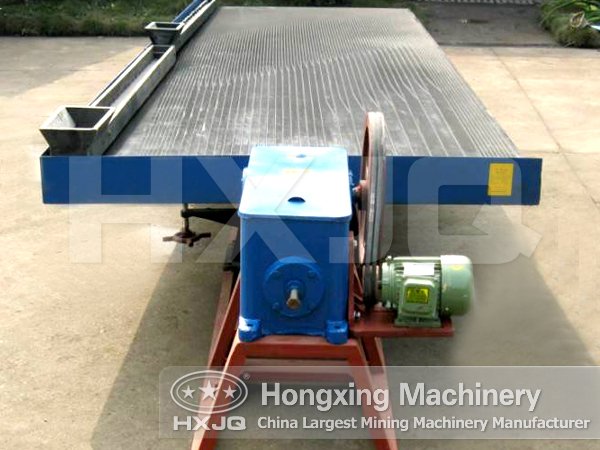 Advantages of Shaking Table
1. Fine water-resistance, chemical resistance, corrosion resistance, abrasion resistance, etc.
2. We can simplify the repair and painting process, directly reduce the maintenance cost, and greatly increase recovery rate and prolong the life of machine which is the best product for mineral processing machine.
Parameters type
Name
Grit
concentrator
table
Fine sand
concentrator
table
Sludge
concentrator
table
Bed surface
Dimensions
Length
(mm)
4450
4450
4450
Driving
part Width
(mm)
1855
1855
1855
Concentrate
part Width
(mm)
1546
1546
1546
Max.feeding
size(mm)
2
0.5
0.15
Feeding
amount
(t/d)
30-60
10-20
15-25
Feeding
thickness
(%)
25-30
20-25
15-25
Stroke
(mm)
16-22
11-16
8-16
Frequency
(f)
45-48
48-53
50-57
Bed surface
Water quantity
(t/d)
80-150
30-60
10-17
Bed surface
Horizontal
obliquity(°)
2.5-4.5
1.5-3.5
1-2
Bed surface
Portrait
obliquity(%)
1.4
0.92
----
Table board
corner(°)
32-42
40
42
Concentrating
area(㎡)
7.6
7.6
7.6
Bed surface
Length ratio
2.6
2.6
2.6
Shape of
side-bed
surface
Rectangle
Zigzag
Triangle
Motor
power(kw)
1.1
1.1
1.1
Transmission
device
Eccentricity
Quick Way To Get Price
Note: For product inquiry or order requirements, Please fill the following form, and we will contact you within one business day, and all your information is kept confidential and is not shared with any third parties.