Disk grain making machine is improved by Hongxing Machinery on the basis of combining the advanced technology of the same types of equipment in domestic and foreign market. Inside the disk grain making machine, there is high-strength glass fiber reinforced plastics, so that it has the advantages of even grain making, high granulation rate, stable operation and long service life, thus making it the ideal grain making equipment.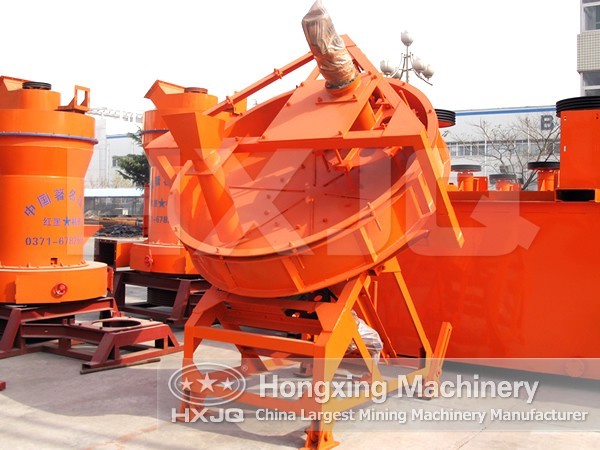 Disk grain making machine has many advantages such as high balling rate, mellow particles, simple and easy operation and convenient maintenance.
The disk uses unitary arc structure, and the granulation rate can reach over 93. There are three discharging mouths for the convenience of intermittent production, thus greatly reducing the labor strength and improving the working efficiency. The reducer and the electro motor use soft belt transmission with stable starting, so that the impact forces is slowed down and the service life of the equipment is prolonged. The pan bottom of the disk is reinforced by several radiation steel plates, so that it is durable. The thickened, weighted and solid pedestal makes the operation of this machine stable.
Parameters type
Specification
(m)

Rotation speed
(r/min)

Production capacity
(t/h)

Motor
(kw)

Adjustment range of obliquity

Dimensions
(m)

Total weight
(t)

Φ2.2

14.25

4-8

7.5

35-55

2.8×2.75×2.58

3.2

Φ2.5

11.81

5-10

7.5

35-55

3.2×2.3×3

3.6

Φ2.8

11.21

12-16

7.5

35-55

3.4×2.6×3.1

4.1

Φ3.0

11.3

15-18

11

35-55

3.7×2.7×3.3

4.8

Φ3.2

9.6

15-20

11

35-55

3.9×2.7×3.4

5.6

Φ3.6

9.1

18-24

15

35-55

4.3×3.1×4.0

7.2
Quick Way To Get Price
Note: For product inquiry or order requirements, Please fill the following form, and we will contact you within one business day, and all your information is kept confidential and is not shared with any third parties.