Hongxing spiral chute combines the advantages of spiral concentrator, shaking table and centrifugal concentrator. Therefore, it is new beneficiation equipment with the advanced level.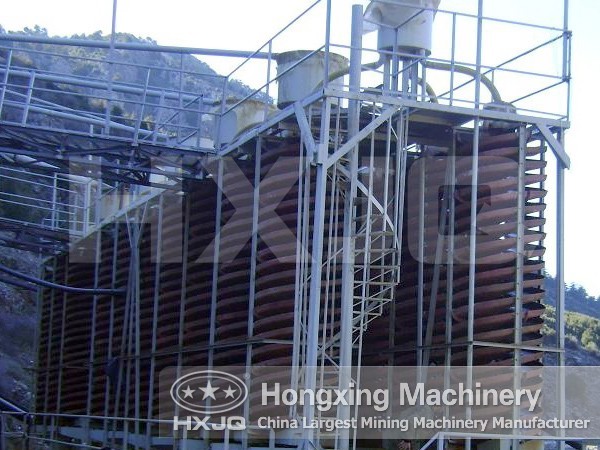 Compared with other models of spiral chute, Hongxing spiral chute comes with advantages of high capacity, excellent efficiency, superior recovery, and reliable operation. Undoubtedly, spiral chute is ideal equipment for investing in mining industry.
Working Principle of Spiral Chute
When the ore pulp flows near the carved groove edge, vortex will be generated; ore bed will be thickened at the same time, which strengthens the loose stratification effect and the coarse but light minerals separated out from the middling band cross the groove to move outwards. The bottom heavy mineral flows to the inner edge along the groove guide. As a result, the middling quality ore volume decreases and the concentrate metal recovery rate is improved. The following table lists the contrast results of Gongchangling feint hematite ore's grade sand setting industrial test (one coarse, one concentrated process) done by spiral chute with and without carved groove.
Quick Way To Get Price
Note: For product inquiry or order requirements, Please fill the following form, and we will contact you within one business day, and all your information is kept confidential and is not shared with any third parties.