Brief Introduction to Mobile Crusher
The launch of mobile crusher eliminates the fussy steel-frame structure and the infrastructure construction during the crushing process, thus saving a lot of time. Mobile crushing station can be directly driven to the working site without transporting the materials to be crushed, so that it is especially suitable for processing building wastes. Even though mobile crushers greatly reduce the investment cost, they improve the investment income.
Main Characteristics of Mobile Crushing Station
Mobile crushing station has the features of reasonable configuration of all levels of crushing equipment, smooth discharging, reliable working condition, convenient operation and high efficiency and energy conservation.
What is more, it has high mobility and can extend together with the raw materials place or the working site and can combine different crushing and screening machines, so that it can satisfy the crushing needs of different materials.
Application of Portable Crusher
Portable crusher is a type of mining machine that can perform the functions of both crushing and screening. China mobile crusher is mainly used in the industries that need material transportation such as metallurgy, chemistry, building material and water and electricity.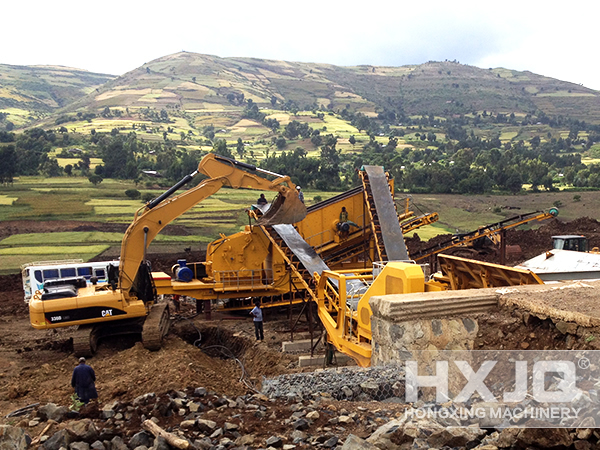 Mobile Crusher Workshop
Hongxing Machinery manufactures large-scale mining equipment, having wheeled mobile crusher and tracked mobile crusher as shown below. Our mobile crushing stations are exported to various countries of the world, and also we can send engineers to help you install the equipment. If you have any questions, please leave us a message, thank you.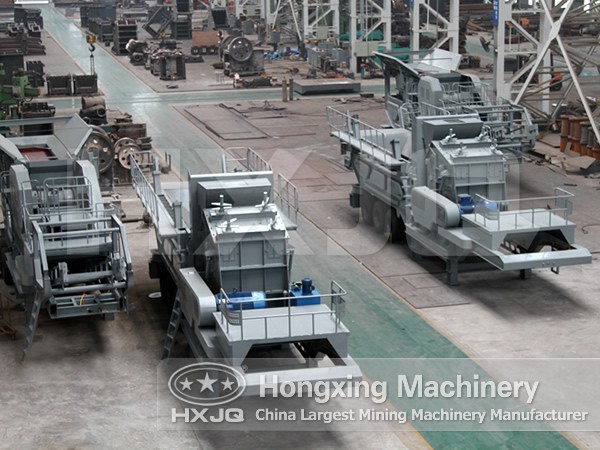 Parameters type
MOBLIE IMPACT CRUSHER TECHNICAL PARAMETERS
| | | | | | |
| --- | --- | --- | --- | --- | --- |
| Model | HX938F1210 | HX938FW1214 | HX1149F1315 | HX1349HD1110 | HX1349HD1315 |
| Transportation Length(mm) | 12000 | 12000 | 13900 | 15450 | 15450 |
| Transportation Width(mm) | 2550 | 2550 | 2900 | 2950 | 2950 |
| Transportation Height(mm) | 3900 | 3900 | 4450 | 4500 | 4500 |
| Maximum Length(mm) | 12500 | 12500 | 13900 | 15450 | 15450 |
| Maximum Width(mm) | 3250 | 3260 | 3250 | 3250 | 3250 |
| Maximum Height(mm) | 5100 | 5200 | 5200 | 5200 | 5200 |
| Weight(t) | 39 | 44 | 54 | 62 | 62 |
| Crusher Model | PF-1210 | PF-1214 | PF-1315 | HD1110 | HD1315 |
| The Maximum Feeding Size(mm) | 350 | 350 | 500 | 400 | 700 |
| Production Capacity(t/h) | 70-130 | 100-180 | 130-250 | 112 | 280 |
| Vibrating Feeder | ZSW950×3800 | ZSW950×3800 | ZSW110×4900 | ZSW130×4900 | ZSW130×4900 |
| Main Belt Conveyor | B800×8.5M | B800×8.5M | B1000×9.5M | B800×11M | B1200×11M |
| Side-opening Belt conveyor(Optional) | B500×3.2M | B500×3.2M | B650×4M | B650×4M | B650×4M |
| Genset(Optional) (kw) | 320 | 320 | 400 | 320 | 440 |
| Iron Separator (Optional)(kw) | RCYD(C)-8 | RCYD(C)-8 | RCYD(C)-10 | RCYD(C)-8 | RCYD(C)-12 |
MOBLIE JAW CRUSHER TECHNICAL PARAMETERS
| | | | | |
| --- | --- | --- | --- | --- |
| Model | HX938HD80 | HX1149HD98 | HX1349HD110 | HX1349HD125 |
| Transportation Length(mm) | 12600 | 13500 | 14500 | 15200 |
| Transportation Width(mm) | 2600 | 2700 | 2800 | 2900 |
| Transportation Height(mm) | 3870 | 4200 | 4450 | 4500 |
| Maximum Length(mm) | 12500 | 14000 | 16100 | 14700 |
| Maximum Width(mm) | 4100 | 4500 | 5100 | 5100 |
| Maximum Height(mm) | 4100 | 4900 | 5000 | 5300 |
| Weight(t) | 39 | 57 | 55 | 65 |
| Tire Configuration | Dual-axial | Dual-axial | Dual-axial | Dual-axial |
| Jaw Crusher | HD80 | HD98 | HD110 | HD125 |
| Maximum Feeding Size(mm) | 500 | 550 | 660 | 800 |
| Discharge Opening Size(mm) | 50-150 | 75-175 | 100-200 | 125-225 |
| Capacity(t/h) | 85-275 | 110-350 | 215-510 | 280-650 |
| Vibrating Model | ZSW380×95 | ZSW420×110 | ZSW490×130 | ZSW490×130 |
| Main Belt Conveyor | B800×8.5M | B1000×9.5M | B1000×11M | B1200×11M |
| Side-opening Belt conveyor(Optional) | B500×3M | B650×3.5M | B650×4M | B650×4M |
| Genset(Optional) (kw) | 200 | 250 | 270 | 400 |
| Iron Separator (Optional) | RCYD(C)-8 | RCYD(C)-10 | RCYD(C)-10 | RCYD(C)-12 |