As very important equipment in the cement production line, dryer machine plays an important role in the production of cement.
With the promotion of the low-carbon economy, how to minimize the energy consumption in cement production and how to maximize the efficiency in the use of the equipment have been the focuses of the cement companies. As a professional dryer manufacturer, Henan Hongxing Mining Machinery Co., Ltd. can very well meet the requirements of many cement companies.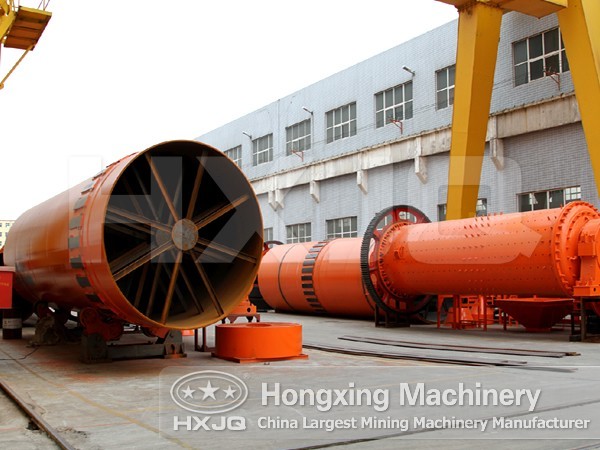 The cement rotating dryer produced by Henan Hongxing Mining Machinery has wide range of application, easy operation and high running rate. In the cement industry, the cement rotating dryer is widely used in drying clay, slag, gravel, coal and other raw materials and fuels. When the cement rotating dryer is used to dry the materials, the hot air or hot flue gas will transfer heat to the materials to evaporate water. At the same time, the ventilation equipment is used to constantly update the drying medium in the drying equipment to exclude the water vapor. In small and medium-sized cement plant, the length of the dryer cylinder is generally 6m to 20m, which ensures that the residence time of the materials in the dryer can meet the requirements of the drying process.
The cement rotating dryer produced by Henan Hongxing Mining Machinery has the following advantages.
First, the tender material has high conformability.
Second, the temperature is uniform. The average gas temperature is between 50 ℃ and 90 ℃; it can also be adjusted according to the requirements. The heat supply is stable and it is conducive to improving the quality of dry equipment.
Third, the labor intensity is small and the operating environment is good; it is conducive to the safe and civilized production.
Forth, the ash can be comprehensively used. Ash without high temperature melting process has high activity and low sulfur, which is the good admixture of cement.
Fifth, the drying efficiency is high.
With the continuous development of the cement production developping to the large-scale and efficient direction, the cement rotating dryer with the advantages of compact structure, small footprint, high thermal efficiency, small investment, high adaptability, and reliable operation has provided an ideal drying equipment for the raw materials and fuels of the cement plant.