We manufacture and sell two types of vibrating screen: circular vibrating screen and linear vibrating screen.
Circular vibrating screen is a new high-efficiency vibrating screen with multi-layers. It has reliable structure, strong exciting force, high screening efficiency, small vibration noise and easy maintenance; the vibrating screen is widely used in mining, building materials, transportation, energy resources, chemical industry and classification industry.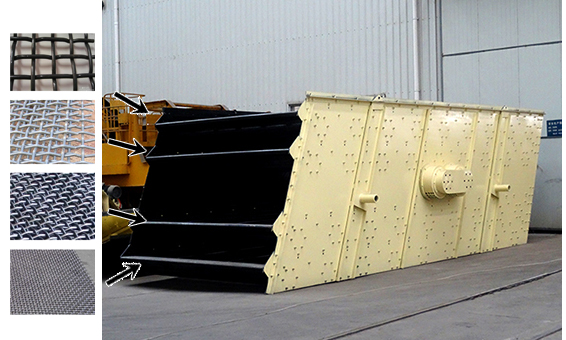 Four-deck screen meshes, the hole in the mesh becomes smaller from top to bottom, thus screening the rocks into four kinds of finenesses.

Stones with different finenesses aften being screened
Parts and Working Principle of Vibrating Screen Machine
Vibrating screen machine is mainly composed of screen box, screen, vibrators and vibration reduction spring, etc. Vibrator is installed in lateral plate of screen box, and spinning is driven by motor through the triangle belt to produce centrifugal force, then to force screen box to vibrate. If there is no special requirement, YA and 2YA are collocated with textile sieving, YAH type is with punching sieving, and all kinds of screen surfaces are available.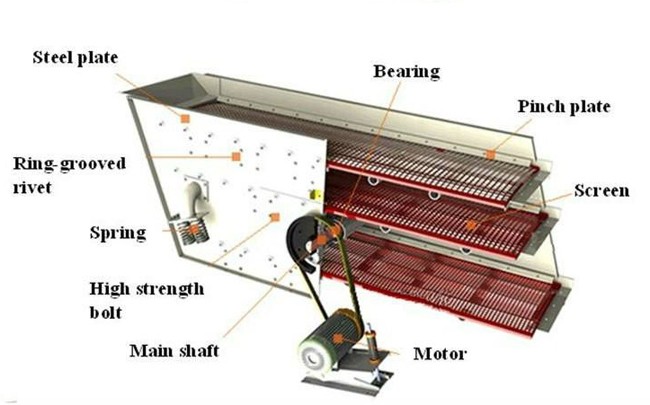 Sand Vibrating Screen
The sand vibrating screen moves on a circular motion. It is a multi-layer and high efficiency vibrating screen. Advantages are: stable structure, strong exciting force, high efficiency, little noise pollution and handy maintenance. Sand vibrating screen has been widely used in mine, construction, transportation, energy and chemical industries. (Note: According to different situations, our company apply vibrating screen with different specifications and modes.)
Video of Vibrating Screen Workshop
The Main Advantages of Vibrating Screening Machine
1. Due to strong vibration of screen box, material jams are reduced, so the sieve has high screening efficiency and productivity.
2. It has simple structure, convenient to change sieve surface.
Characteristics:
1. The tube circle vibrating screen has convenient usage and maintenance.
2. The knitting circular vibrating screen has screen or punching screen panel, which has long service life and not easy to be blocked.
3. Vibrating screening machine has rubber isolation spring, with long service life, small noise, smooth resonance region, etc.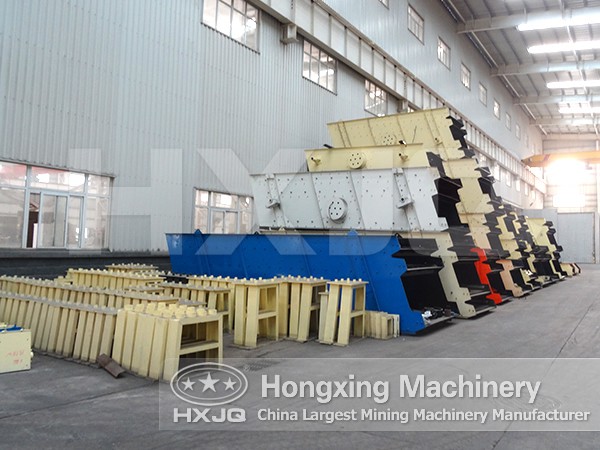 Vibrating Screen with Different Models in the Workshop
Main Strengths:
1. Materials blocked in meshes can get out automatically;
2. Simple structure and easy to disassemble and replace;
3. Electricity power consumption is less.
If you want to get vibrating screen price, just leave us a message below or contact the online customer services!