Bucket elevator has the advantages of big conveying capacity, high hoisting height, stable and reliable running and long service life. In general, materials with poor flow characteristics can be successfully handled with a bucket elevator.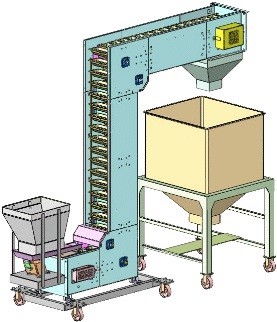 Performance and parameters of bucket elevator are in accord with JB3926-85 Vertical Bucket Elevator, which complys with the international standard and advanced foreign standard; and the towing circle chain is in accord with MT36-80 High-Strength Circle Chain for Mine. This machine is applicable for conveying the powder, grain and block materials such as coal, cement, block, sand, clay and ore. The bucket elevator is allowed to convey materials with high temperature when armed with special circle chain structure.
General Inquiry Form
To send inquiries, including feedback, requests for information, or questions, you may use our Feedback and Inquiries form below.
Fields marked by an asterisk (*) are required fields.
All your information is kept confidential and is not shared with any third parties.
Topic:

Company Name

:

Your Name

:
*
Phone:
E-mail:
*
Message: