rotary drum cooler
10/15/2012 11:40:13 PM
Rotary drum cooler is the clinker cooling equipment used in the rotary kiln system and it has simple structure and reliable operation. The exhaust gas after heat exchange can be inhaled into the rotary kiln to improve the thermal efficiency of the entire system. There are refractory bricks laying on the front part of the drum. The heat-resistant steel lifting plate is installed on the middle part of the drum. The curved throwing plate is installed on the back part of the drum. The rotary drum cooler produced by Henan Hongxing Mining Machinery is safe and reliable and it does not need to reprovision the dust collection equipment so that the layout of the process system is simple and the cost production is low. This kind of rotary drum cooler is widely used in ships, maritime transport engineering, industrial applications, equipment installation engineering and chemical industry.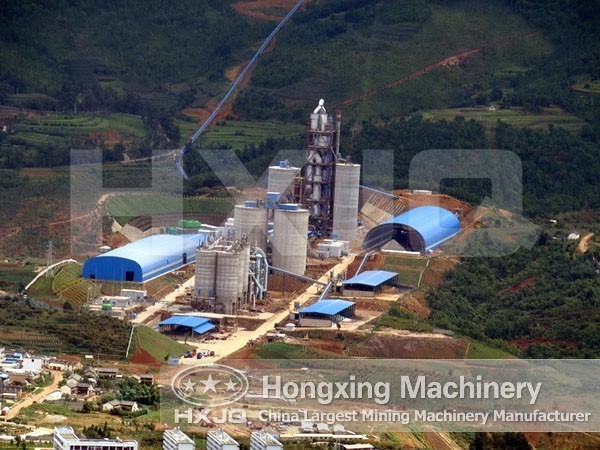 The cooling machine is used to cool the clinker of the rotary kiln and recycle the clinker for hyperthermia to increase the temperature of the secondary firing. In addition, hyperthermia can be cooled rapidly, which helps to improve the quality and grindability of the material. The rotary drum cooler is suitable for cooling the hot material and it can allow air to absorb a lot of heat from the hot material at the same time so that the combustion air is getting hotter and hotter to strengthen the calcined and reduce heat consumption. The rotary drum cooler is an important equipment for rotary kiln.
The masonry length of refractory lining in rotary drum cooler cylinder accounts for about 50% of the total length of the cylinder. Part of the cylinder is equipped with the throwing plate. The part without the refractory lining is equipped with the throwing plate, too. The clinker in the lifting area is repeatedly raised to achieve the heat exchange between the cooling air and the hot clinker. Especially in the low temperature region, you can improve the lifting structure, arrangement form or adjust the inclination and rotational speed of the cylinder to increase the contact time between the clinker and the cooling air and control the moving speed of the clinker so that the heat inside the clinker has the recombinant time to the contact to the surface. In this way, we can achieve the full recovery of the heat of the low-temperature clinker.