high-frequency vibrating ore screen
10/19/2012 10:32:50 PM
High-frequency ore screen is mainly used before two-stage grinding process for the magnetite mountain or the pre-grading and inspection grading for the two-stage grinding mineral operations; it can constitute a closed circuit with the two-stage grinding mineral operations. The high-frequency mineral screen is also widely used in coal, chemicals, building materials and other industries. The frequency ore screen uses the cylinder-type eccentric shaft vibration exciter and the eccentric adjustment amplitude. The rifling of the material screen is long and there are many screening specifications. The high-frequency ore screen has the characteristics of reliable structure, strong exciting force, high screening efficiency, low noise and easy maintenance.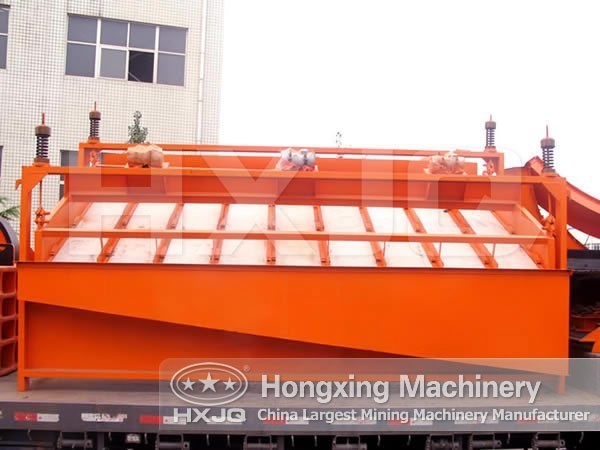 The high-frequency ore screen produced by Henan Hongxing Mining Machinery Co., Ltd. uses the nylon or stainless steel sieve, it is the required equipment of the fine-grained iron ore. High-frequency ore screen is mainly composed of the screen box, exciter, suspension device and the electric motor. The motor drives the rotation of exciter through the V-belt. The centrifugal force of unbalanced weight on the exciter makes the screen box vibrate. Changing the eccentric shaft of the exciter can obtain different amplitude. The high-efficiency vibrating ore screen has high screening frequency and small amplitude. The working principle of the high-frequency ore screen is different from that of the conventional screening equipment. The high-frequency screen with high-frequency destructs the surface tension of pulp and high-speed oscillation of the particles on the screen surface, which accelerates the separation effect of the useful mineral with large density. Better separation conditions are created so that the materials that less than the separation granularity can become the products under the sieve though the sieve mesh.
At present, the rich ore reserves are increasingly scarce. Making full use of the limited ore resources can create more wealth. High-frequency ore screen can bring good economic and social benefits for the customer.
Prev Article:
preheater
Next Article:
rotary screen