It is Crucial to Choose Suitable Grinding Mill
8/8/2013 7:35:34 PM
With the development of the times, people's view is also becoming wider and wider. In the production fields using grinding mill, people no longer just pay attention economic benefits, but try to find out an equilibrium point between economic benefits and environment protection. After all, the present quality of the air indeed does not look good.
At present, Raymond mill, high strength pulverizer and high pressure grinding mill manufactured by Hongxing Machinery all introduce the most advanced technology in the powder grinding industry and combine with the actual domestic and foreign conditions to maintain the most considerate and the most effective design.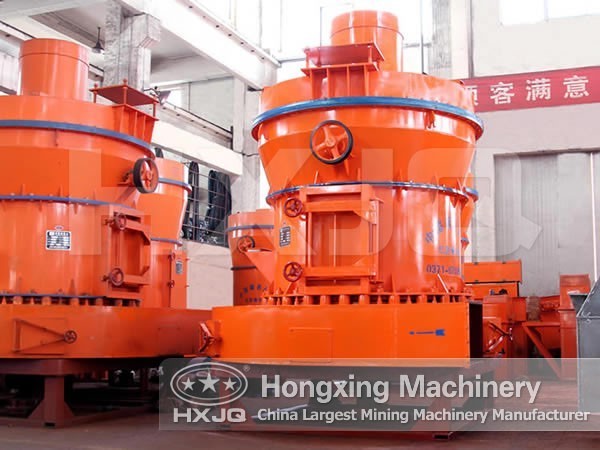 Hongxing Raymond mill has the features of high efficiency, low electricity consumption and small coverage area, and all these features make its one-time investment is small. Hongxing Raymond mill has an outstanding feature in design, that is, under the centrifugal force, the grinding roll closely crushes the grinding ring, and in this way, even the grinding roll and the grinding ring are seriously abraded, the output and the fineness of the final products will not be influenced, thus effectively extending the changing cycle of the grinding roll and the grinding ring. Such a design is designed by Hongxing designers according to the deterioration of the product to save capital investment from the source for the customers.
Hongxing high strength pulverizer is widely used for grinding non-flmamable and non-combustible materials whose Moh's hardness is below 9.3 and humidity is below 6% in mine, metallurgy, chemistry and building material, and the fineness grinding granularity can reach 1000 Mesh. Though the special adjustment device inside the mill, it can produce coarse powders of 30-80 mesh.
Compared with airflow mill, high pressure micro power mill has wide application, good sealing performance and low price, and it is energy saving, for this reason, in the case of conforming to the requirement of production capacity, choosing high pressure micro power mill can save a lot of money.