The Agitation Vat is used in Flotation Operation
1/13/2013 5:27:06 PM
The agitation vat is used for the stirring of the slurry in the flotation operation to make the pulp fully mixed with the flotation agents, creating the conditions for the processing operations. It can also be used for the stirring of other non-metallic minerals. It is applicable to the materials whose concentration is not greater than 30% (by weight) and the particle size of the fixed component is less than 1mm. Before the agitation vat is put into use, the operator should fasten the bolts of the pump body and check the flexibility of the rotating shaft. The machine cannot be put into operation until all parts are confirmed to be normal. The mining agitation vat developed by our company is mainly used for the pulp stirring before the flotation to create the conditions for the flotation operations.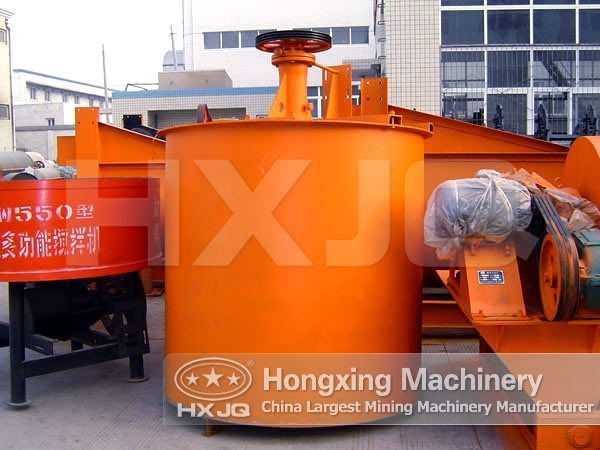 It is the essential equipment to realize the full mix of the pulp and the flotation agent. It is also used for the mixing of materials of various chemical industry and other non-metallic minerals. Driven by the motor V-belt, the impeller rotates, which helps that the pulp is fully mixed with the reagents. It is also the indispensable device to increase the reaction time of the reagents and strengthen the reaction quality.
The agitation vat is characterized by advanced performance, stable quality of the finished product, uniform stir and rapid discharging. In addition, the machine has small size, light weight, which makes it easy to install and disassemble. At the same time, the positions and the inclination angle are adjustable within the predetermined range and the stir efficiency is high. Moreover, the agitation vat is featured with smooth operation, low noise and long service life.