The Superior Advantages of Double Toothed Roll Crusher
9/5/2013 6:38:47 PM
In the early days of New China, our industrial development mode mainly depended on that of former Soviet Union. Gyratory crusher, cone crusher and jaw crusher were widely used during that time, and the textbooks of colleges and universities also mainly introduced the structure and design of the above-mentioned crushers. While content about double-tooth roll crusher was very simple, and the conclusion was that "a crusher is not that useful without the function of crushing rocks", and therefore it had not been widely applied for more than 30 years since New China was founded. After the reform and opening-up policy was carried out, we began to introduce equipment and technology since we learned that the double-tooth roll crusher was very popular in developed western countries. Through contrastively analyzing the operation practice of double-tooth roll crusher at home and abroad, and compared with gyratory crusher, jaw crusher and other domestic crushers which are used traditionally, double-tooth roll crusher has the following advantages: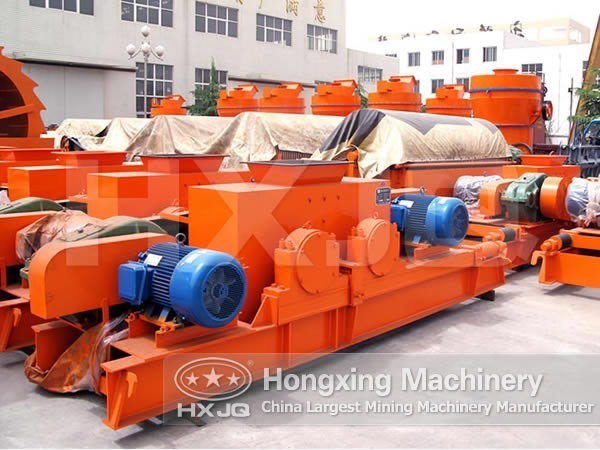 (1) Simple structure, easy maintenance;
(2) Small overall dimensions, light weight;
(3) Large production capacity, low energy consumption;
(4) Working stress are all internal forces, which creates conditions for simplifying foundation design, and it is more suitable for mobile crushing station.
(5) Even product granularity;
(6) Reliable safety guarantee
(7) It can be directly started under special circumstances, which has small impact to power grid.
Crushing is a very complex process, and it is related to the nature of the material itself (including uniformity, hardness, density, drilling degree, pad shape and moisture content) and the selected mechanical equipment. The external force used for crushing materials makes materials crushed other than have relative movement and rotation. It is very important to determine the relationship between the consumed crushing power and the crushing degree of the materials to be crushed. The surface and volume theories are the most common in the existing theories of jaw crusher. Although precise conclusion cannot be achieved, the two theories can provide reference for the selection or design of crusher.