Introduction to Grinding and Classification in Non-metallic Ore Processing
9/23/2013 5:39:08 PM
Grinding is the continuous crushing process after the ores are crushed by crushing machines. As for the processing of non-metallic ores, the grinding and classification process has three purposes: first is to make monomer separated raw materials that meet the separation requirement for the subsequent ore beneficiation and purification work; if wet type separation method is used, classification work will be needed to meet the requirement for the pulp density of the subsequent classification work; second is to provide the powdery raw materials that meet the requirement of feeding granularity for the super fine crushing and fine classification process; third is to process the fine powders that meet the fineness requirement of the relevant applied sectors such as ceramics, refractory, building material and stone materials.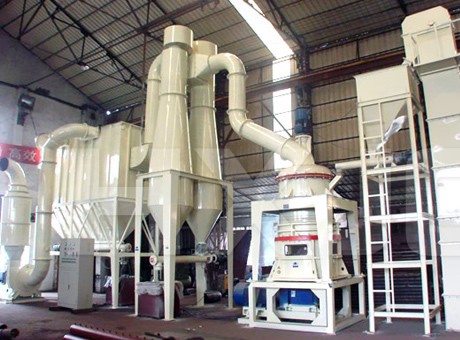 As a preparation work for ore beneficiation, ore grinding and classification work generally adopts wet type technology. Generally speaking, the grinding mill uses autogenous mill or semi-autogenous mill, vibrating mill and gravel grinding mill and the classifier uses spiral classifier, hydro cyclone and hydro classifier. This grinding and classifying process generally adopts grinding-classification technology. If the fineness of the selected pulp has high requirement or staged separation is needed, the technical process of two-stage grinding and multi-stage grinding and separating will be used. According to the installation method of the classifier in the grinding and classifying system, the one-stage ore grinding process includes three types: one-stage grinding process with examination classification system, one-stage grinding process with pre-classification and examination classification system and one-stage grinding process with control classification system.
The one-stage grinding process with examination classification has the widest application. The ground products are sent to the examination classification machine to classify the majority of qualified particles, and the unqualified particles will be returned to the grinding machine. Checking the closed circuit work of the classifier and the grinding mill can, on one hand, control the maximum granularity of the qualified products, on the other hand, due to the cyclic load, increase the quantity of the ores that go through the grinding mill in unit time and shorten the time for the ores to go through the grinding mill, thus reducing over crushing quantity and improving the ore grinding efficiency.