The Working Principle and Advantages of Hongxing Spiral Chute
4/8/2014 12:19:22 AM
Spiral chute is suitable for sorting materials whose size are 0.3-0.02 mm such as iron, ilmenite, chromite, pyrite, zircon, rutile, monazite, phosphorus ore, tungsten ore, tin, tantalum, niobium ore, non-ferrous metals with specific gravity differences, rare metals and non-metallic minerals.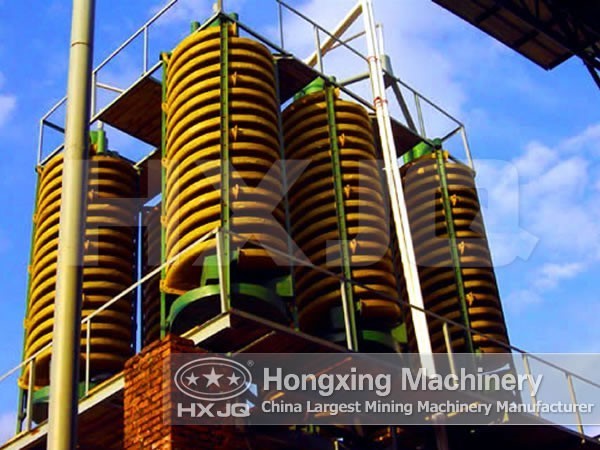 Working Principle:
The spiral chute should be erected with the metal frame or wood fixed in a reasonable place to calibrate vertical lines. The sand is fed by the sand pump onto the top of two feeding mouths. Then add additional water to adjust the concentration of mineral paddle. The paddle falls down from a high swirl to produce a centrifugal force of inertia during its rotating on the slope. After that, the ore and sand will be separated by the gravity and centrifugal force based on the proportion, particle size and shape differences of ore. Finally, the concentrates inflow into the bucket to be discharged by the pipe,while tailings flow into the pond to be drained away by sand pump to complete the whole process of dressing.
Advantages:
It has reasonable structure, easy installation, small footprint, less water consumption, easy operation, stable process, easy control, clear ore dressing, large capacity and high efficiency. It is made of special PVC plastic. The spiral chute in sand production line has advantages such as light weight, free from moisture, resistant to rust, strong adaptability in fluctuations of corrosion, ore concentration and particle size, high enrichment ratio, high recycling rate and less noise.
Henan Hongxing Machinery has been committed to technology research for many years, which produces spiral chute in various models with the best equipment and professional research and development team. It creates high-quality spiral chute! Experienced spiral chute experts also provide you with professional spiral chute processing information. Hongxing Machinery is your ideal choice for ore dressing equipment!