The Maintenance of the Dry Type Magnetic Separator
4/28/2014 2:00:52 AM
The magnetic system of the dry type magnetic separator adopts high-performance tombarthite ndfeb and high-quality ferrite materials. Through the subtly open magnetic circuit design, the magnetic induction intensity of the dressing area on the cylinder surface can achieve 0.8T or above, 3-5 times stronger than the traditional magnetic separator. The ore dressing cylinder adopts wear-resisting stainless steel; the materials are evenly sent to the separator by the vibrating feeder, and the rotating cylinder casts the nonmagnetic materials away, while the magnetic materials are attracted to the cylinder by the magnetic force.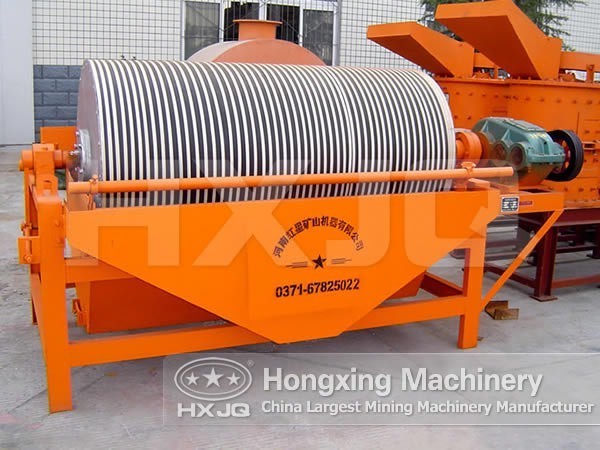 The low-consumption and high-efficiency magnetic separator products are gaining importance in the industry. But long-time use will damage the machine, so at this time, the machine needs maintenance at fixed time. Here are some principles when maintaining the dry type magnetic separator:
1. In order to ensure the machinery in a good technical condition and production safety, reduce downtime, mechanical wear and the mechanical operation and maintenance cost, improve the utilization rate of mechanical pipe, prolong the service life of machinery, and can be put into operation at any time, the maintenance work must be strengthened to the mechanical equipment.
2. Mechanical maintenance must implement the principle of 'paying equal attention to the maintenance and repair, prevention first'. Make sure regular maintenance and deal with the relationship between the use, maintenance and repair correctly, allowing no use or repair without maintenance.
3. Each team must complete the maintenance work according to the procedures and categories of all kinds without undue delay. The maintenance work can be delayed for some time when the special cases appear, but should not exceed half of the prescribed maintenance intervals in general.
4. The maintenance quality should be emphasized, implementing the maintenance item by item according to relevant regulations and requirements. The problems found in the maintenance should be recorded and submitted to the department.