The Role of Jaw Crusher in the Sand Production Line
5/4/2014 12:14:05 AM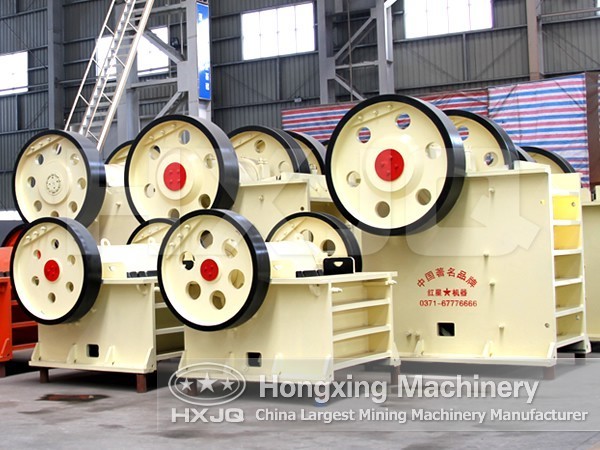 Jaw crusher, as the first important equipment to coarsely crush materials in the sand production line, should be characterized as big reduction ratio, even granularity, stable performance, energy saving and consumption reduction etc. The granularity of the final products can be regulated according to customers' needs, which makes it receive more and more praise and popularity among the users.
1. The methods to regulate the granularity of final products.
Many methods can be used to regulate the granularity, such as to adjust the rotor speed and the gap between the counterattack plate and grinding chamber. The gap adjustment can be made with mechanical style or hydraulic style, and the application of hydraulic regulating system can easily complete the gap adjustment through the on-site operation button or the remote control system.
2. The procedures to complete in the sand production line.
a. Large pieces of ore is sent to the jaw crusher to be coarsely crushed by vibrating feeder through the stock bin;
b. The stone after coarse crushing is sent to the tertiary crusher by belt conveyor or other conveyor for further crushing, namely fine crushing;
c. The materials after fine grinding will be delivered to the vibrating screen for screening. The materials that meet the granularity demand will be sent to the sand washer and then flow out to be the finished product. While the unqualified materials will return to the sand making machine to be grinded again, forming a closed-circuit circulation many times.
d. The Finished product granularity can be regulated and graded according to the needs of users. In addition, the production line is equipped with the dust removal equipment in order to protect the environment.