The Five Characteristics of the Dry Type Magnetic Separator
5/9/2014 1:14:22 AM
Hongxing Machinery, as one of the earliest mining machine manufacturers, masters the advanced production technology and management concept. Our company's principle is the development way depends on the concept and the good product comes out of the good faith. Our company also can customize the magnetic separator to meet the different demands of customers. The magnetic separator gets customers' trust in the production process, quality, price and service. It is suitable for the materials with granularity below 3mm such as magnetite, pyrrhotite, calcined ore and ilmenite and can also be used for removing iron from the coal, non-metal ore and building material. In order to help the customers choose the most suitable machines, Hongxing Machinery here give you a detailed introduction to the features of the magnetic seperator.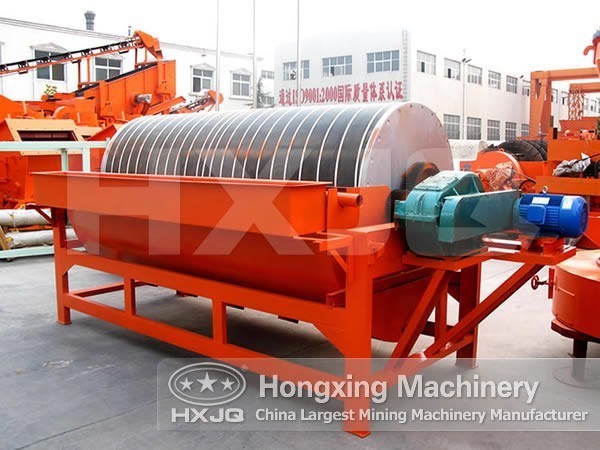 The magnetic separator can be divided into two types according to the dry and wet state of the raw material: dry type magnetic separator and wet type magnetic separator.
The five characteristics of dry type magnetic separator:
1. No water is used in the mineral dressing process. Compared with the wet type in this aspect, no sludge or sewage is produced, so it is not harmful to the environment on the one hand; on the other hand the water resource can be saved a lot.
2. Separation effect is satisfying. The dry type magnetic separator adopts the dynamic magnetic system design, so the ore material slides, moves and tumbles along the roller surface without being adhered to it, which can improve the primary grade by 1-4 times, and the concentration grade can reach 60%.
3. Big processing capacity: this machine adopts the package type open magnetic system, with which the material is not wrapped or jammed. The processing capacity per machine can reach 50 tons, and the capacity will be doubled if more machines are used in parallel.
4. Broad application field. There are dozens of types in our company and suitable for many industries like iron ore, river sand, tailings, steel slag, steel ash, sulfuric acid slag, abrasive material, fire-proof material, plate making, rubber and food etc. some of the equipment can be used for several purposes.
5. High productivity: no water is needed during the dry type magnetic separating, so the process is not limited by the water and can realize continuous production during the whole year. It is especially suitable for the areas short of water.