Hongxing Roll Crusher Has Wide Application Ranges
8/4/2014 8:21:36 PM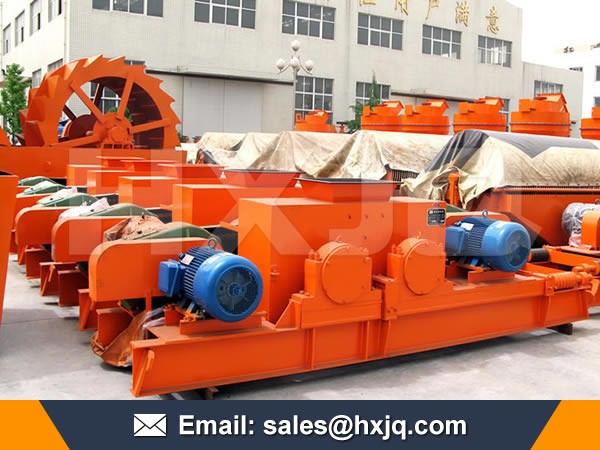 Roll crusher is the commonly used crushing equipment in stone production line, which is often used with jaw crusher, sand making machine and other equipment. It can achieve the implementation of the medium and fine crushing for various ores. Roll crusher appears to be relatively late compared to the jaw crusher, but its development is fast, which is mainly because of its crushing effect is unique. The crushing ratio of roller crusher is relatively large, and the general crushing ratio should not exceed 10, while the crushing ratio of double roll crusher is generally 30~40. Double roll crusher has advantages of good crushing effect and uniform product particle size. During the following paragraphs, Hongxing Machinery will introduce the application scope of roller crusher.
Roll crusher is suitable for crushing medium or hard materials in ore dressing industry, chemical industry, cement industry, electric power industry, metallurgy industry, refractory industry, abrasives industry, building materials industry and other sectors, such as limestone, slag, coke, coal and other materials. Double roll crusher has the advantages of simple structure, stable performance and convenient operation, which can achieve the ideal particle size by adjusting the gap between rollers. Hongxing roller crusher, which is the most economical sand making equipment, has several features such as low cost, low-quality crushing output and suitable for level aggregates. The roller crusher of our company has quality assurance and supremacy credibility, free installation and debugging. The consignment can be compared with other manufacturers from quality, service and price ratio.
As one of the powerful roller crusher manufacturers in China, Hongxing Machinery has high performance roll crusher for sale, which includes double roll crusher and single roll crusher. We provide the highest quality roll crusher with the most reasonable price. Roll crushers produced by our company have been fully approved by the new and old customers. Providing the professional technical service for each customer is our basic idea of every employee. We will always offer you first-class service to win your sincere satisfaction!