Shaking Table Has Undeniable Function in Ore Beneficiation Line
8/17/2014 6:42:53 PM
Shaking table is widely used in the separation of fine materials. When selecting tungsten and tin, the particle size range of tailings is 2 -0.03 mm. When compared with the other gravity ore dressing equipment such as spiral concentrator or chute, shaking table has high separation efficiency. When the proportion difference between the useful minerals and gangue is greater than 1.5, shaking table can realize effective separation. In the separation process of shaking table, clean water should be used to wash the small proportion materials in the ditch; it plays the selected role in selected areas. However, how much water can be used and what is the role of shaking table in the tungsten ore dressing process?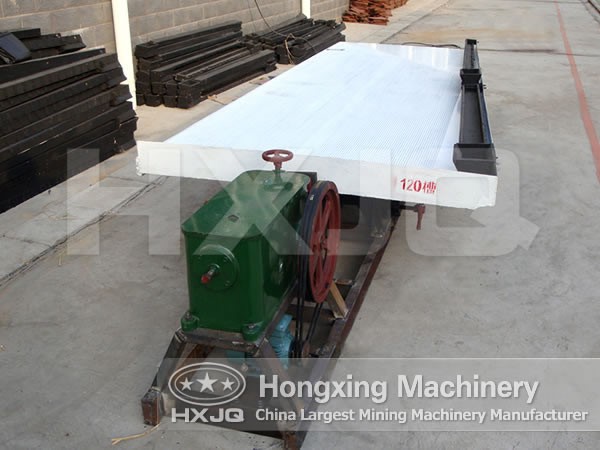 In fact, the quantity of water is closely related to water velocity and particle velocity, and its influence on the separation is very obvious. Practice shows that the displacement from the concentrate belt is also obviously to be seen, regulating the washing water is a very important work in the operation process of shaking table. The washing water and the table surface slope are determined by transverse flow velocity. When the slope is constant, there will be excessive water, so the aquifer thickness will cause the narrow ore zone. Some large proportion of coarse particles is easily to enter the middling zones, which caused by unknown areas. The tailings loss may increase, and the water will be too small. Although the concentrate of bandwidth is long, the quality is not high, the middle area of intergrowth may lead to large amount of concentrate. Some light minerals cannot be cleaned in the tailings, thus resulting in large quantity. Therefore, water content and slope should be matched with each other. When the slope is large, the water can be less. On the contrary, if the slope is small, appropriately increase the water amount. Generally, the coarse grain needs more water; the amount of water for fine particles should be small.
Hongxing Machinery is committed to the R & D as well as the production of ore dressing equipment. Over the years of innovation, we have developed a series of ore dressing equipment, which includes shaking table, flotation machine, magnetic machine, ball mill and so on. The equipment produced by our company has reasonable price, high performance and complete specifications. Welcome customers to visit our company!