How to Improve the Working Efficiency of Concentrator?
8/26/2014 2:18:08 AM
In the ore separating line, in order to obtain concentrate and tailings after dewatering process, we often use the high efficiency concentrator to shrink minerals before drying. High efficiency concentrator is not only a settlement device, but also a comprehensive shrinking device. Hongxing Machinery is a professional manufacturer of high efficiency concentrator over the years, and we have been committed to various types of ore dressing equipment. We have summarized two ways to improving the efficiency of the concentrator from our long-term production experience: degassing and automation control.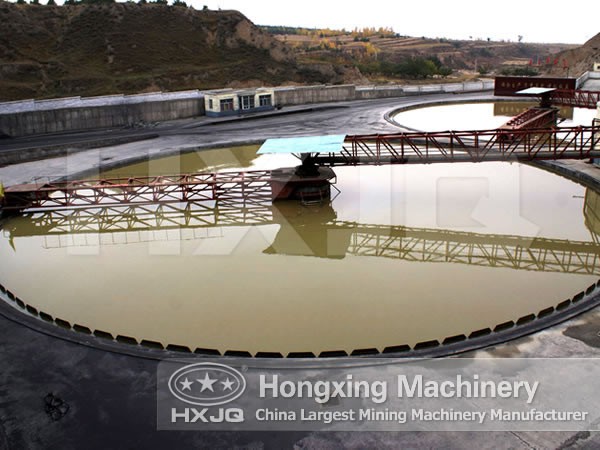 During the production process of concentrator, if the flotation concentrate contains air, the proportion of solid particles will be reduced, and the floating bubbles will influence the flocculation effect. Adding the degassing device in front of the ore feeding pipe can eliminate the air in the pulp, which can improve the flocculation effect.
The automation control of the concentrator means the intelligent computer control system. Clarify the interface position, the underflow concentration and the overflow concentration through the detection apparatus of sediments or sedimentary layer. The host torque of concentrated parameters will feedback to the automatic control system. The automatic control includes the stop and dosage of the host, the feeding quantity, underflow discharging and the motor speed of discharging pump. In order to provide artificial monitoring, operation and analysis, all the parameters are collected and processed by the computer.
Hongxing Machinery offers free ore dressing tests for users, welcome to do beneficiation tests in our company. We produce concentrator with reasonable price and reliable quality. We can produce corresponding products according to the different requirements of customers. In addition, our company will send technicians to guide the on-site installation and training. Welcome to contact us!