Mobile Crusher Will Be the Mainstream of Mining Machinery Industry
10/31/2014 12:04:25 AM
With the continuous progress of infrastructure construction, the stationary crushing equipment has become popular in the market. According to the investigation of each big stone factories, they want more machines with energy saving, environmental protection, small volume, high yield, easy and flexible equipment. In the next few years, mobile crusher equipment will show a good momentum of development. The crusher with compact structure, flexible movement, and environmental protection crushing station will completely replace the stationary crusher in this context, which has become the mainstream of crushing equipment.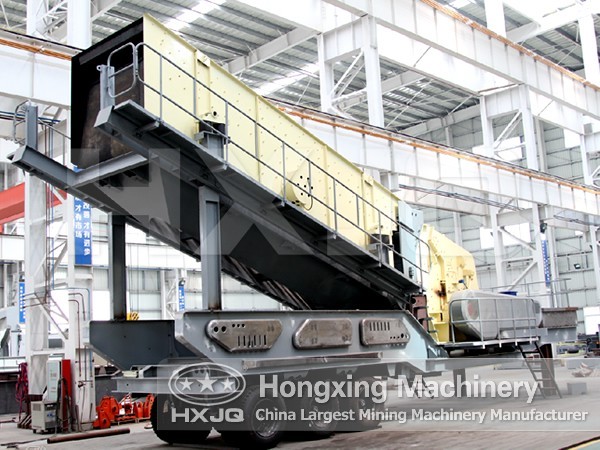 Mobile crusher is the large crushing and screening equipment independently developed by Hongxing Machinery. It is the combination of feeding, crushing, sieving and transferring, which can realize automatic walking. Mobile crushing plant is just like a small crushing plant. Its design concept is to completely adapt to different mobile crushing requirements and provide a new operation mode for clients, so as to greatly reduce the operation cost. Hongxing mobile crusher price is reasonable, and the specifications of the crusher are complete, which can be divided into the jaw mobile crusher, impact mobile crusher, cone crusher mobile crusher and so on. At the same time, we can put forward multi combination according to expanded demand for the high-end customers to maximum extent. It also can be configured with the primary, secondary and tertiary crushing of materials according to the different needs of customers, as well as the portfolio optimization of crushing and screening systems.
To some extent, the appearance of mobile crusher leads to the better use of mining equipment in different environment, which can carry out production operation whenever and wherever possible. Hongxing Machinery is one of the professional crushing equipment manufacturers in China, such as mobile crusher, cone crusher, jaw crusher, etc. Over the years, our company has been engaged in the research and manufacturing of crushing equipment to meet market demand for a variety of customers. We sincerely look for your cooperation!