Hongxing Sand Making Machine Has Outstanding Advantages
11/13/2014 2:14:49 AM
Sand is widely used in housing construction, railway, highway and so on, the projects all involved in construction work, generally cannot do without sand materials. But the different production lines have different sand intensity requirements. Sand making machine is also called sand maker or sand crusher, which is the indispensable equipment in sand production line. We have introduce the famous 'stone hits stone' crushing principle and technology of American Barmac company, by combining with the actual situation of domestic sand production, we have developed the effective sand making machinery which has the leading level in domestic and international market. Then it makes Hongxing sand production line technique has been further promoted in the market.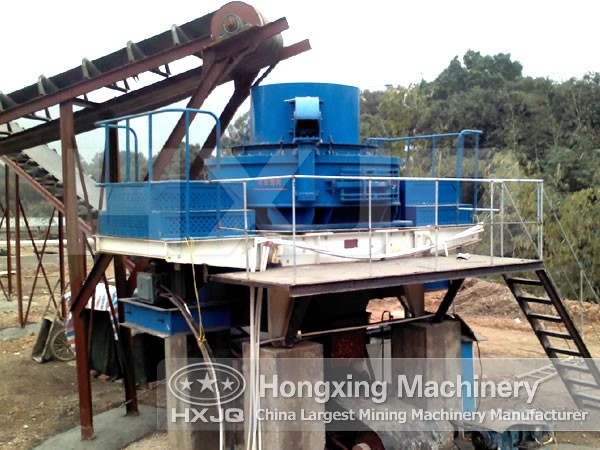 First of all, we can look at the role of sand maker in sand production line. Sand production line consists of vibrating feeder, jaw crusher, sand making machine (tertiary crusher), sand washing machine, vibrating screen and belt conveyor. According to the different requirements of the process, it can realize the combination of various machines, so as to meet the requirements of different customers. The third generation of sand making machine can be in the middle position of the whole process, it can crush the small particles after crushing by the crusher, finally conduct the fine crushing to the sand grain grade.
Sand making machine equipment was initially rod mill type sand making machine, and later as a result of the continuous development of technology, it is followed by the impact type system sand machine, the third generation of sand making machine, which is now commonly used in sand production line of sand making equipment. The third generation of sand making machine in the sand production has shown high crushing efficiency, excellent product particle size, very low aggregate flakiness content, which is suitable for plastic, artificial system sand and stone production of high grade highway specifications; bulk density, iron pollution is low. In a lot of sand factories, it is considered to be used.
Hongxing Machinery is professional sand making machine manufacturer. Hongxing sand maker is developed on the basis of the original sand making machine. We summarize the shortcomings and advantages of sand maker, and the use of high performance feeding control device and a material detecting device make the VSI sand making machine increase by one grade in the original particle level, which can obtain good benefit and profit. We will provide the most economical sand production line.