Mobile Crusher is the Killer of Construction Waste
1/14/2015 8:16:57 PM
Because the infrastructure and urban transformation in our country is vigorously carried out, the buildings are rapidly built up, while the old building is rapidly disappearing. During this period, a huge amount of solid waste has been produced. If these construction waste are not been treated directly but for landfill treatment, after a hundred years, the waste is still unable to self degradation, the building rubbish will be a long-term harm to the environment in the future. The main results highlight in the aspects of land pollution, groundwater pollution and the air pollution of the environment; this situation is not conducive to our development direction-- sustainable development strategy. So, the realization of construction garbage regeneration into resource went on to the stage of history. Once born, it has received praise and favor by a lot of people. Throughout the relevant policies, the construction waste has been encouraged and supported, which can realize the new project development cycle and green environmental protection.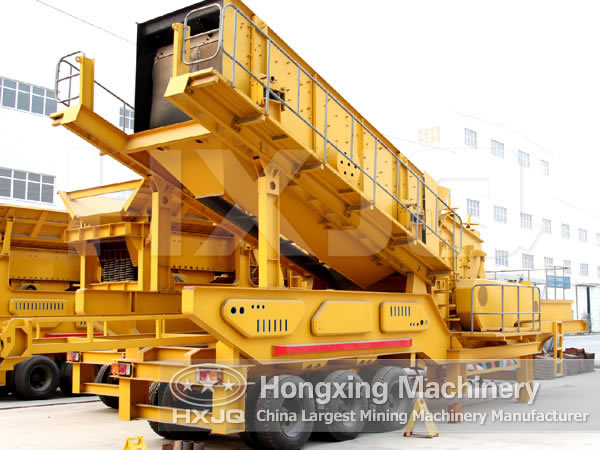 Mobile crusher is the extension version of traditional stone production line, which is the successful example of mine stone crushing equipment to expand the function of building materials industry. It has the advantages of small occupied area, flexible movement, convenient maintenance and strong maneuverability, which can save a lot of infrastructure and relocation costs; it can also carry on the onsite crushing of materials without removing the material from the scene for crushing again. Mobile crushing plant can move with the raw material mining face, thereby greatly reducing the material transport cost. Mobile crusher has flexible configuration, which can be designed according to the actual design or special situations of customers, which is very suitable for construction waste crushing.
Mobile crusher has successful applications in construction waste disposal problems, which has solved the construction waste 'siege' predicament and improved our surroundings. It also made their contributions to the construction waste disposal technology. As the professional mobile crusher manufacturers in China, Fote Machinery always comes first on the list among domestic mobile crusher manufacturers. With great transformation potential, we have focused on the research and development of mobile crushing equipment, which has a technical team and a strong production team to ensure that each set of factory mobile crushing station is highly efficient and stable. All customers are welcomed to visit our factory for business negotiations!