Analyses on Jaw Crusher Crushing Technology
3/15/2015 7:08:17 PM
Jaw crusher is the earliest crushing equipment in domestic, adopts upper and lower jaw board to crush stone multiply. The discharging granularity is adjustable. Jaw crusher has strong applicability, simple production process, high grinding efficiency and even discharging granularity, and it is the most widely used coarse crushing equipment in domestic mining, chemical industry, building materials, metallurgy and other departments.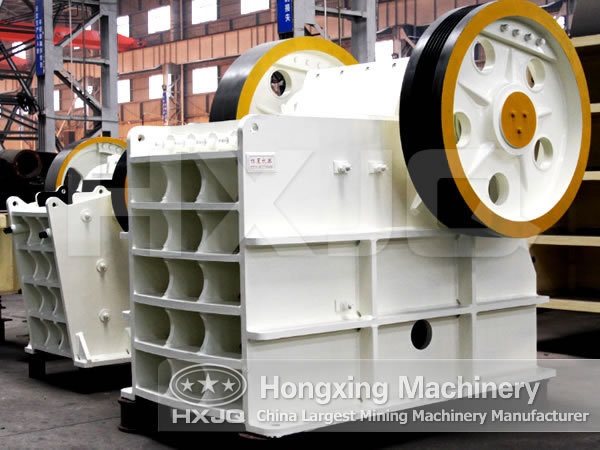 Jaw crusher together with vibrating feeder , impact crusher, and vibrating screen, forms a complete set of professional rock crushing equipment, with reasonable configuration, less investment, advanced control system, which can realize automatic production. The finished products produced meet the standard of building materials.
The finished stone aggregate produced by comprehensive jaw crushing plant has high quality and excellent particle size. This jaw crushing plant improves the crushing efficiency, simplifies the technological process and promotes product quality. Stone aggregate production has become the trend of development, with the construction of railway, high-speed rail and highway. The current domestic aggregate industry is still in a rapid developing stage, and the crusher manufacturers should constantly improve their quality to win the market.
Hongxing Machinery is specialized in producing stone production line, sand production line, rock crushing equipment, powder making equipment, etc. The crushing and screening joint design covers an small area, has high yield and good investment benefits, at the same time, it is equipped with advanced electric operation controlling system, to ensure the entire process with smooth discharging, stable running, convenient operation, high efficiency and low energy consumption!