Fine Crusher Greatly Increases Coal Crushing Ratio
4/20/2015 11:31:39 PM
The fine crusher is also named high efficiency tertiary crusher and the third generation fine crusher. It has a wide range of uses and its performance has reached the international leading level. It is the most practical and reliable stone crushing machine, especially suitable for the fine crushing of a variety of hard and brittle materials such as abrasive material, fire-proof material, cement, quartz sand, steel grit, slag powder, copper ore, iron ore, gold ore, concrete aggregate, asphalt aggregate, etc., saving 50% energy than that of the traditional one.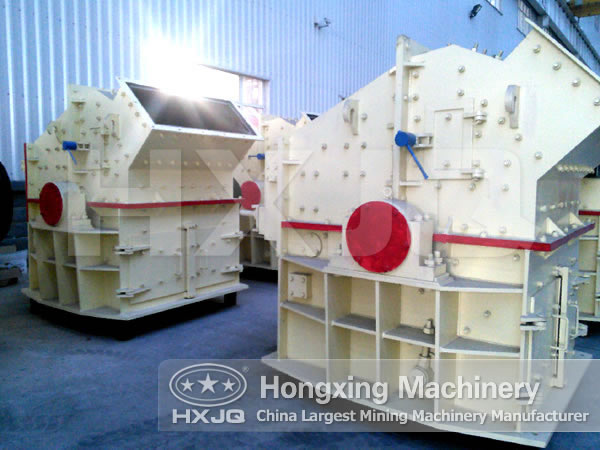 Performance Characteristics:
1. Add counterweight wheels on the basis of the traditional one, saving energy, increasing the kinetic energy and production efficiency greatly improved;
2. Design an access door in the back of fine crusher, conducive to the maintenance and observation of the operation condition;
3. Increase a grate adjusting device in the bottom of the fine crusher, convenient to adjust the material discharging granularity and more humanization.
At present, our country's energy sources still give priority to coal. During the process of coal mining, the utilization ratio for coal cinder is very low. At the same time, it also causes the waste of resources. Therefore, fine crusher as a specialized coal crushing machine, has brought new hope for improving the utilization rate of coal cinder. The efficiency of a fine crusher is equivalent to that of two old-type coal crushers, with more affordable price and superior quality, greatly reducing the cost to invest and upgrade.
On condition of high quality, we combine with advanced technologies and innovation, making great improvement on reducing noise, saving power, increasing discharging fineness and promoting durability. Aimed at the fine crushing of coal cinder, our company is specialized in manufacturing fine crushers, not only increasing the coal cinder utilization and saving energy, but also protecting our environment.