Good Sand Washing Machine Means Business in Mining Operation
5/4/2015 11:35:09 PM
With science and technology continue to progress in China, so does the sand washing machine. After years of introducing the most advanced technologies from abroad, the sand washing machine gradually upgrades into what it is today from the previous old generation. Meantime, the production scale of sand washing machine has also been increasing. The sand washing principles and structure of sand washing machine directly affects the yield and quality of the equipment.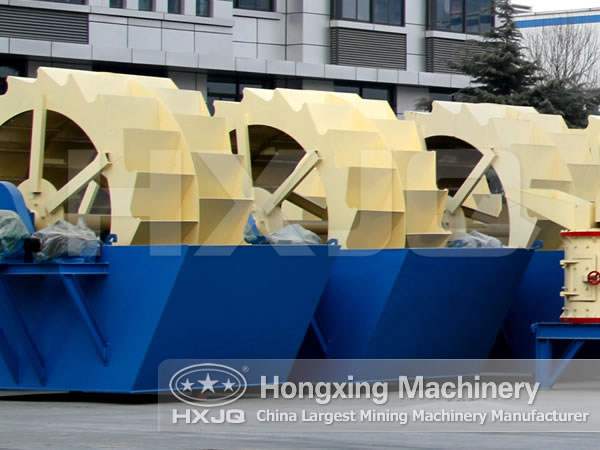 The sand washing machine as an important part of China's mining machinery industry, its performance has a closer and closer relation with the gravel aggregate quality. A good-performance sand washing machine is a multiplier in operation. The screw sand washing machine and bucket wheel sand washing machine are the most common equipment in sand washing machinery. The bucket sand washing machine is a new type of washing equipment spring up in recent years. It can be used to wash sand, as well as the carpolite, with an extensive range of demand in the market. The screw sand washing machine makes use of the spiral to make the gravel and water and mud separated. However, this kind of sand washing machine can wash the gravel aggregate thoroughly but with low productivity.
With the application of sand washing machine becomes increasingly wide,the intensity of competition in the market also heats up. Hongxing Machinery has been engaged in researching and manufacturing various kinds of equipment since establishment, such as sand washing machine, rock crusher, sand making machine, drum screen, dryer, etc.
Users' trust is our greatest motivation to progress and product quality is our constant pursuit. We insist on providing high quality sand washing equipment for our customers with different requirements by being strict with every procedure and every detail.