Cement is a kind of hydraulic cementing material. When cement is mixed with water, after a series of physical and chemical reactions, cement will change from plastic pulp into hard rock. As for the hardening condition, cement can be hardened both in the air and in the water and maintain and continue to develop its hardness.
So cement material can be used in both over ground project and underground construction. Cement grinding station is used for cement grinding, and cement crusher is used for cement crushing. In the cement mines, you need to choose suitable cement grinding station and cement crusher.
Cement production line or cement plant is a series of cement making machines for manufacturing cement. It is mainly composed of such processes as breaking and prehomogenization, preparation of raw material, preheating decomposition, the firing of cement clinker and cement grinding packaging. Cement plant includes cement rotary kiln, cyclone preheater and comb cooler.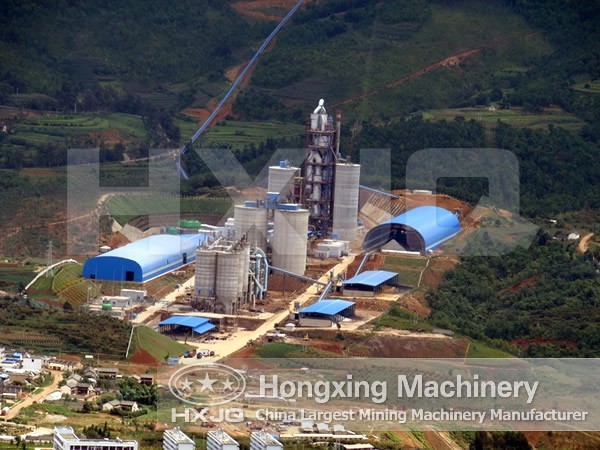 Cement equipment and cement rotary kiln machines manufactured by Hongxing Machinery adopt the latest wireless communication technology and transmit the kiln temperature data measured by the thermocouple to operator's cab. The kiln temperature transmitter uses battery power supply and can collect simultaneously many thermocouple signals. It is installed onto the kiln body and rotates with the rotating cylinder. Because the heat insulation measurement is taken, it can stand over 300°C and can tolerate the rain, sunshine and shock.
Cement Machinery Used in a Cement Making Plant
In a cement making plant, not only the crushing machinery, but also the grinding machines are used as cement machinery.
Limestone crusher: limestone is the main raw material for making cement, so we need the limestone crusher to crush limestone to small particle sizes to make cement.
Raw mill: it is used to crush limestone particles and additive materials.
Coal crusher and coal mill: They are used for crushing and grinding coal into powder in cement plant.
Gypsum crusher and mill: In cement plant, they are used for crushing and grinding gypsum into powder.
Cement mill: They are used to grind cement clinker into powder to make cement.