Brief Introduction to Grinding Production Line
Grinding production line is mainly used for grinding non-flammable and non-explosive materials whose Moh's hardness is below 9.3 and humidity less than 6% such as cement, quartz, feldspar, barite, calcite, gypsum, limestone, dolomite, talc, marble, fluorite, activated clay, activated carbon, bentonite, kaolin, phosphate rock, glass and thermal insulation material in building material, chemistry, fertilizer, metallurgy, mine, refractory, ceramics, steel, thermal power and coal industry. The granularity of the final products can be adjusted in the ranges of 30-400 meshes and part materials can reach 600 meshes.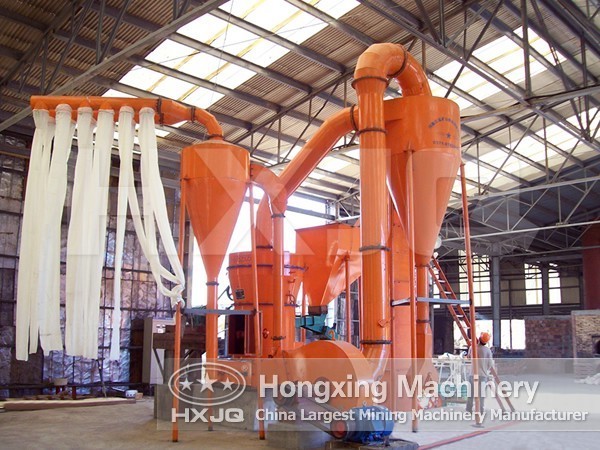 Working Process of Powder Grinding Production Line
Materials are firstly sent into jaw crusher to be crushed to smaller size. Then they are lifted to storage room by bucket elevator. Electro-vibrating feeder will feed materials into grinding chamber evenly and gradually. After being ground, the powders will be blown to cyclone by blower. Then the materials will be transferred to storage room through pipes and then be discharged as final products.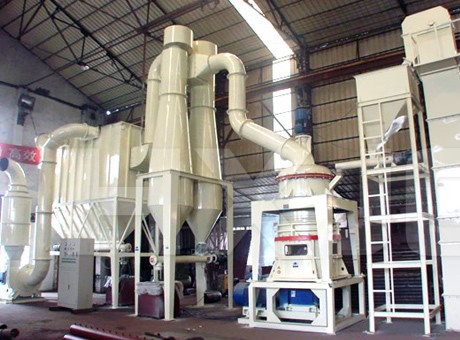 Parameters type
| | | |
| --- | --- | --- |
| Model | 4525 | 4119 |
| Feeding Size(mm) | ≤30 | ≤25 |
| Output Size(mm) | 0.044-0.173 | 0.044-0.173 |
| Shift Output of Different Material Fineness(t) | 16-176 | 8-78 |
| Rotation Speed of Central Shaft(r/min) | 82 | 105 |
| Ring Diameter(mm) | 1770 | 1400 |
| Roller Diameter(mm) | 450 | 410 |
| Roller Height(mm) | 250 | 190 |
| Main Motor | Y315M-4-132 | Y280S-4-75 |
| Fan Motor | Y315M-4-132 | Y280S-4-75 |
| Analyzer Motor | YCT250-4A-18.5 | YCT200-4B-7.5 |