The Detailed Introduction to Gravity Spiral Chute Equipment
12/30/2012 5:37:37 PM
This gravity spiral chute equipment applies to sort non-ferrous metals, precious metals and non-metallic mineral body with particle size of 0.3 - 0.02 mm as well as differences in the proportion, such as thin material of iron ore, ilmenite, chromite, pyrite, zircon, rutile, monazite, phosphorus B ore, tungsten ore, tin, tantalum ore, niobium ore, etc. This equipment has stable sorting process, easy control, wide mineral concentration range, high enrichment, high recovery, small footprint, small water consumption, simple structure, without power, large capacity, easy installation and operation, small investment and other advantages.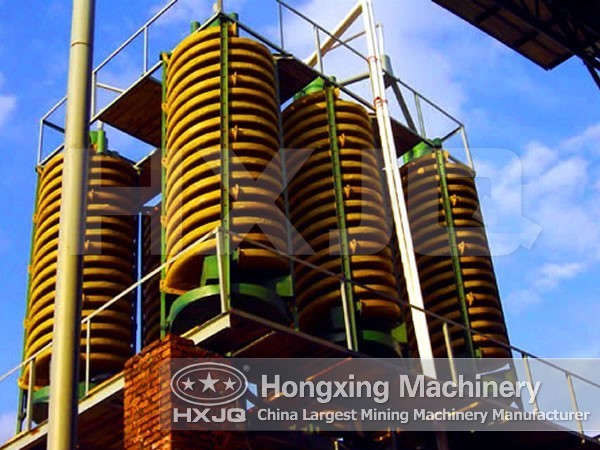 Using methods and working principles:
Erect spiral chute, align vertical line and fix the machine with a metal frame or wood in a right position; sand pump send the ore to the two feed ports in screw top, add additional water and adjust the concentration of ore slurry; ore slurry naturally falls from high vertiginously and generates an inertial centrifugal force in rotating inclined surface velocity; the action of gravity and centrifugal force of the swirling flow make the mineral and sand separated base on the differences in proportion, size and shape; concentrate inflows concentrate bucket and be collected by pipe, the tailings flow into the tailings bucket and be collected to sand pool by pipeline and be drained away with sand pump so that completed the whole process of beneficiation.
Summary of structural parameters:
1. Diameter
The processing power of the spiral chute is mainly determined by the diameter of the spiral chute, its size is proportional to the square of and diameter.
2. Screw pitch
Screw pitch size determines the size of the longitudinal inclination of the spiral chute, and be represented by the ratio of the pitch and the diameter.
3. Cross section
For large size materials, we should use larger horizontal angle β, and the flow depth and flow velocity are both large. Conversely, we should use the lateral cross section with smaller inclination.
4. Cylinder number
The cylinder number decides the length of selection line. The cylinder number varies with the nature of the selected materials, often need to be determined by experiments, 3-5 circles is appropriate.
5. Chute pavement
The requirements on pavement: (1) wear-resisting (2) smooth (3) wetting (4) the coefficient of friction.