Some Correction Knowledge of Sand Impeller Removal
1/1/2013 6:24:24 AM
VSI sand making machine is a new kind of machine, it can break different types of rock, sand and gravel, river gravel into various particle size, and also the size is uniform, it is more better than the natural sand and the sand that the ordinary sand maker produced, it more better met the requirements of artificial sand. Next, we will introduce some knowledge about the demolition, replacement of wearing parts, and assembly of VSI sand maker impeller.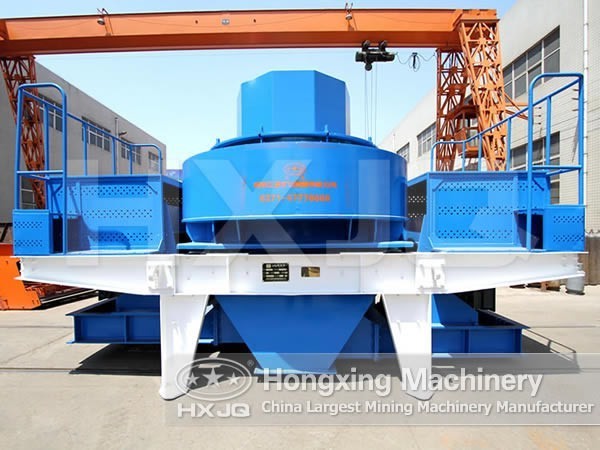 1. Impeller part removal of the VSI sand maker: Loosen and remove the screws of the impeller guard mouth circle, lift the impeller guard mouth circle (if badly worn, replace it with a new one), clean the impeller chamber, unload and rive off the cone fixed screw of the impeller center, lift the riving cone (if badly worn, timely replace it), do a diameter 30mm gasket less than the thickness of the spindle diameter, place it in the spindle, and then place a 50T mechanical gasket on the gasket, do a gantry with diameter greater than the impeller diameter to hook blow the lower end of the impeller, start the 50T mechanical top and remove the impeller.
2. Replacement of sand impeller wearing parts: after cleaning the impeller internal and runner chamber, you should relieve the fixed wear blocks, wearable pieces, loose the screws of the fixed wear plate and remove the grinding plate, use the working hand hammer to hit the direction of the impeller center on the upstream channel board, remove the upstream channel plate from the wheel, and so is the downstream channel plate.
3. Impeller's correction and balance: Before you correct, you should remove all the assembly wearing parts of the impeller, do a specially level axis to stick into the center hole of the impeller shaft, and then place the impeller with leveling axis on a horizontal bracket, at both ends of the leveler shaft are bearings and shaft box can make it flexible. Under normal circumstances, correct the impeller for twice, you can randomly and repeatedly rotate it until the impeller stops in the different location at a time, at that time, the correction work is end.