Structure and Working Principle of Fine Jaw Crusher
1/20/2013 6:04:47 PM
Fine jaw crusher is a new kind of jaw crusher, it is improved by the simple pendulum type jaw crusher, and it adopts the eccentric shaft structure composed of several movable jaws and a number of eccentric columns. This kind of crusher is suitable for crushing materials in small-scale mining, building materials, road construction, silicate and chemical industry and other departments. Crushing feed particle size is not more than 120mm and the compression strength of ore and rock is less than 250Mpa.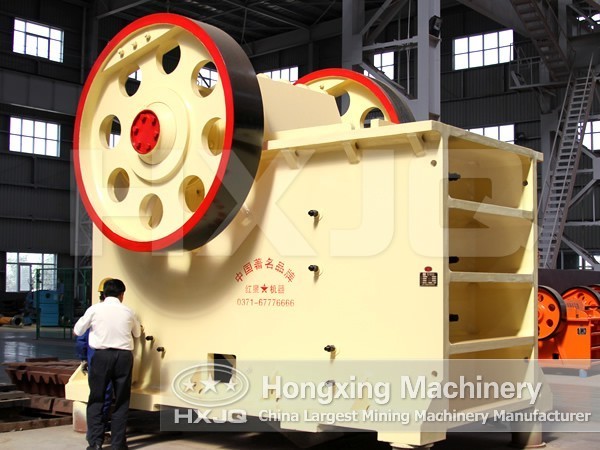 Fine jaw crusher mainly consists of frame, moving jaw, eccentric shaft, fixed jaw plate, and liner these component parts. Its working principle: the motor through a belt drives the eccentric shaft to rotate, making the movable jaw move along the adjustable trajectory, then it makes the materials inside the crushing cavity crushed, the crushed materials will be discharged by the dead load of the materials through the discharge opening.
The frame is the welding junction piece, the fixed jaw plate depends the two side guard and is fixed on the front wall, it can protect the rack from wearing, moving jaw liner is mounted on a movable jaw, it serves to prevent the moving jaw from wear when one end of the liner is worn, you can turn around and use the other end.
The movable jaw and movable jaw liner of fine jaw crusher have two sets; they are arranged side by side. The movable jaw is suspended on the eccentric shaft, the eccentric portion of the eccentric shaft is also divided into two sections, they have the same eccentricity, but the eccentric direction is opposite, each movable jaw is respectively moving to the fixed jaw under the action of the eccentric shaft.
Adjustable seat can be moved back and forth along the chute on both sides of the rack, there are two groups of adjusting pads between the adjustable seat and rack posterior wall, adjust the clamping bolts can play a role of jacking up the movble jaw and compressing the gasket. You can adjust the discharge opening width by adjusting the thickness of the gasket to require the suitable particle size of the product.