Why does Mobile Crusher Become a New Favorite in Mining Market
8/27/2013 7:42:21 PM
Mobile crusher is not only mobile crushing station, but a simple and flowable stone production line which is widely used in railway, highway, construction, water conservancy and metallurgy. According to the types of the raw materials and the requirement of final products, mobile crushing station can be coarse crusher, medium crusher and fine crusher. It can really provide customers with highly efficient and low-cost facilities for project operation and it greatly expands the concept of crushing process.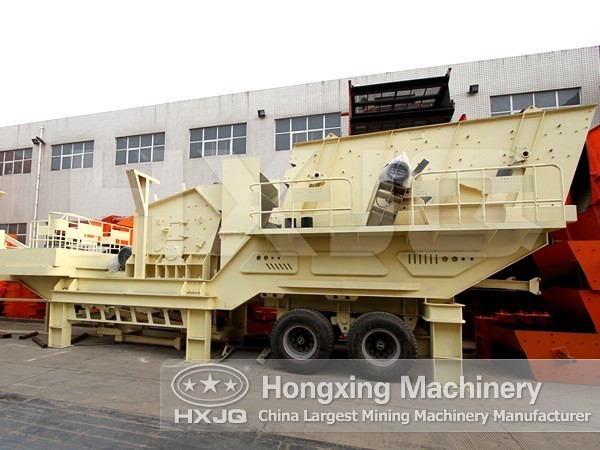 1. Integrated and complete set of unit
The integrated installation method eliminates the infrastructure installation process of complicated sites of separated units, thus reducing the consumption of materials and time. The reasonable and compact space pattern improves the flexibility of equipment.
2. Flexible mobility
The vehicle-mounted domain is high, the width of the car body is smaller than the semi-trailer and the radium of turning circle is small, so that it is convenient to drive on common roads and more convenient to drive on the rugged roads. Mobile crushing station saves time for conveniently entering the working site and provides more flexible space and reasonable layout configuration for the whole crushing process.
3. It reduces the transportation fees.
Mobile crushing station can directly crush the materials in the first working site and saves the intermediate links of transporting the materials from the first working site for crushing, thus greatly reducing the transportation fees of the materials. In addition, lengthened unit can even directly send the materials to the transshipment wagon box.
4. The crushing process is direct and effective
Integrated mobile crusher can be used independently, and it can also provide more flexible configuration according to the material type and product requirement of the production process to satisfy the specific requirement of mobile crushing and mobile screening, thus reducing the production costs as much as possible.
5. Strong adaptability and flexible configuration
Regarding the coarse crushing and fine crushing and screening system, mobile crusher can not only work independently, but flexibly combine with other machines to form a system.
As is known to all, mobile crusher has many advantages such as flexibility and convenience and strong mobility and it is a big helper to the mining industry, for this reason, it gradually becomes a new favorite of the mining market.