How to Determine the Clearance of Jaw Crusher Bearing
2/27/2013 5:24:37 PM
Compound pendulum jaw crusher is widely applied in various industries, and it has large crushing ratio, efficient energy, safe and reliable performance, so it is well received by customers of all ages.
Compound pendulum jaw crusher is equipped with two pairs of bearings: one pair is rack bearing between the rack and the eccentric shaft; the other pair is moving jaw bearing between the movable jaw and the eccentric shaft. The two pairs of bearings transfer the load generated in crushing process to the rack, therefore, the structural design must be reasonable. Here, this paper mainly describes how to determine the internal clearance of the bearing.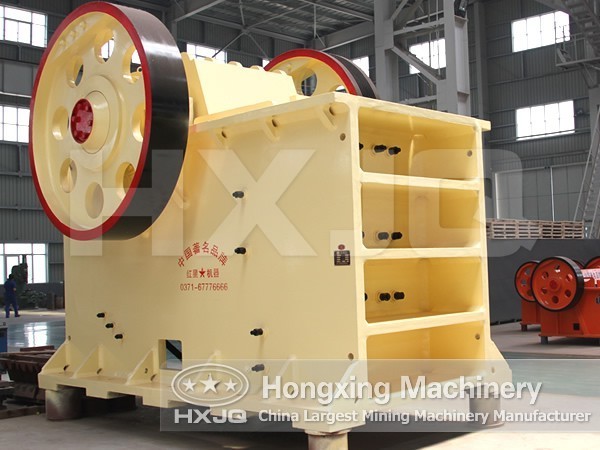 There is only radial clearance in spherical roller; the radial clearance can be divided into five groups according to the standard, which has been adjusted in the factory by the manufacturer. The clearance is called the original clearance. Having assemblyed the bearing, the original clearance will be reduced. As for moving jaw bearings, eccentric shaft uses interference fit assembly with it. After heating moving jaw bearing, the inner ring expands; the expansion of the inner ring will reduce the original bearing clearance.
As for rack bearings, we often set withdrawal suit to fix the bearing inner ring and eccentric shaft, the axial movement of the withdrawal sleeve determines the reduction of bearing radial clearance. The bearing handbooks generally give the minimum and maximum radial clearance reduction to different bearings. The minimum radial clearance reduction is to prevent the withdrawal sleeve loosing and taking relative rotation with eccentric shaft or bearing inner ring. The maximum radial clearance reduction is to prevent large deformation of the bearing inner ring.