Hongxing Annual Conference Concluded Successfully
2/27/2013 5:53:14 PM
On Feb, 22, 2013, the 2013 Henan Hongxing Mining Machinery Co.Ltd. Annual Conference concluded successfully. In this annual feast of the Hongxing people, Hongxing workers offer a gluttonous feast of visual and auditory in the annual meeting by showing their acqierement. Those years we have been worked together with warm and romance. On the same day, the veterans and rookies gathered and showed their artist. The theater "80 Remembrance" took us back to that period of the ignorant years' the solo "Father", "I LOVE YOU" relived the care of the family for Hongxing people who has left home for almost one year; the dance "pretty girl" gave Hongxing people a feast of visual and auditory.
Apart of sentimental and romantic programmes, elegant and refined are also the key words of the display. The opening dance of the exotic "Flying" put the variety show style for with graceful dance steps. Of course, the popular annual Gala essential elements are also the hotspot of the entire program. The "Voice of China" "Zhen Huan Biology", the legendary phoenix, etc., the countless fiery 2012 Keywords also appeared on the stage, and the unexpected burden of the laugh pots attracted the laughter of all audience.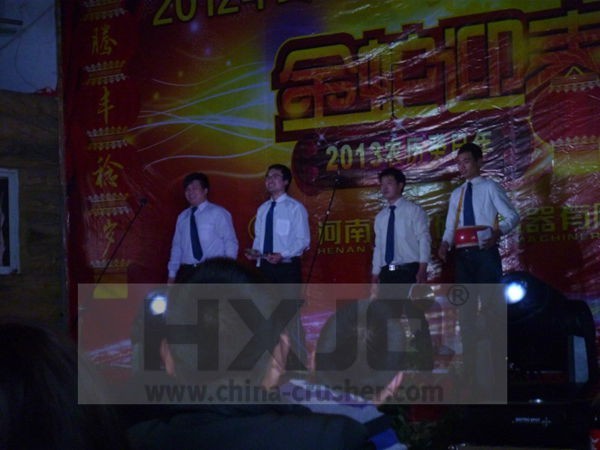 The 2013 Henan Hongxing Mining Machinery Co.Ltd. annual Conference came to an end in laughter and amazing sound. Although the show on the stage has come to an end, but Hongxing people will still put into the work with full vigor and vitality, wanton performance, and innovative attitude, and continued to blossom in 2013 by learning, innovation and hard work.
Hongxing Machinery provides professional technology, excellent product and intimate after-sales service when you purchase sand maker, ore tube drier from our company. As a professional mining machinery exporter, we will win your trust with our delivery speed, Enterprises Credit and product quality.