Structure and Processing Features of Floating Dry Separator
4/5/2013 5:34:47 PM
Compared with the pre-concentration by magnetic pulley, using suspension dry magnetic separator machine can get better pre-cocentration effect: it can maximize the grinding ore grade, make full use of mineral resources and realize the production goal and reduce consumption.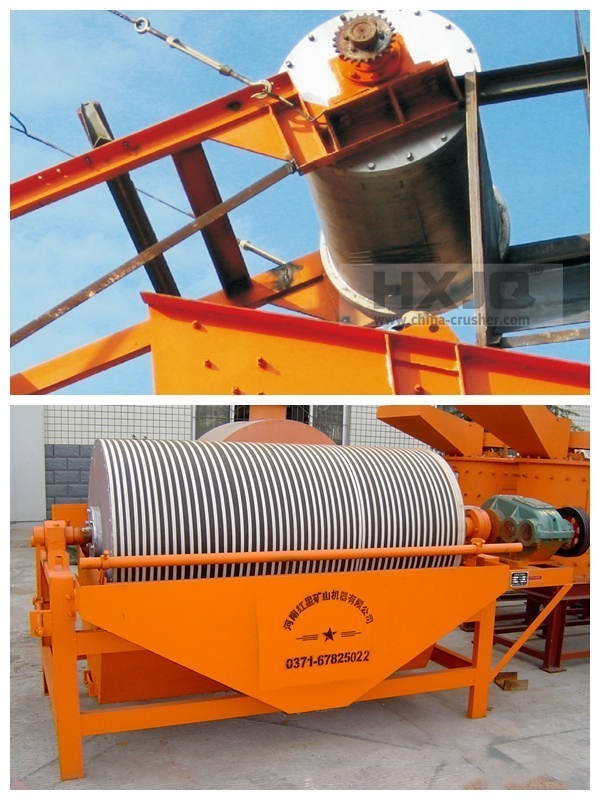 Structure features of floating dry separator: the transmission system adopts complementary single tandem structure to adapt to high dust in the environment; ribbed belt is with roller groove bite, prevent high-speed belt from running deviation; the speed is controlled by frequency converter to ensure the reasonable speed; the electric control system is equipped with protection devices; the belt is equipped with guide plate and backplate to prevent ore from running out of belt or clipping between belt and roller so as not to damage belt. Magnetism is enclosed within the stainless steel casing and fixed on the frame, avoiding falling-off phenomenon; the wear parts are protected by wear-resisting materials; the machine is equipped with dust removal system so that the dust generated in the working processed can be recycled intensively.
The process features of floating dry separator:
1) roller deposit distribution
Making use of extrusion for roller deposit distribution can ensure uniform processing and material layer as well as intercepting and crushing large-sized ore.
2) planar magnetic
Long planar magnetic separation can absorb more magnetic ores.
3) magnetic department locates upper and mining in lower
Planar magnetic department is over the ore, magnetic materials keep loose state in the selection area and are adsorbed under the action of magnetic force without inclusion phenomenon.
4) the overflow device
Floating dry separator is equipped with the overflow device in the hopper; in the production process, the excessive ores will drop to the overflow belt through the overflow channel, then the overflow belt magnetic head then takes assisted sorting so it will not affect the normal production.
5) fine tailings adjustment plate
Fine tailings are in parabolic before being thrown into the corresponding ore box. According to the production requirement, suspension type dry separator can control the interception amount of fine tailings by removable mineral plate so as to fully guarantee separating effect.