Compound Crusher Shows Its High Productivity in Fine Crushing Industry
6/26/2014 1:16:10 AM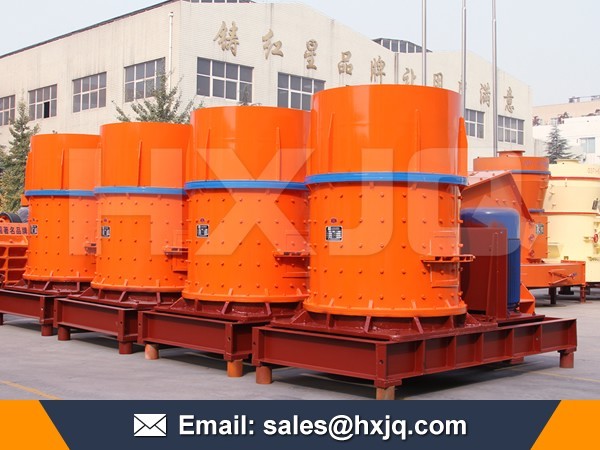 With the development of technology and urbanization, the construction industry enters a rapid developmental period, which provides a good opportunity for crushing equipment and sand making equipment. The constant development of construction industry cannot separate from the support of crusher, compound crusher, sand making equipment, etc.
Compound crusher, as a new type medium and fine crushing equipment, is also called vertical shaft crusher or vertical shaft compound crusher. It is a efficient and energy saving crushing and sand making machine. The compound crusher has an especially good effect for materials with high moisture content. Customers can regulate its discharging granularity freely. In addition, its grate bar free design makes the materials with high sediment content not jammed in it, and the uncrushable materials can discharge automatically, so it will bring no damage to the equipment. it has advantages like stable discharging, high tertiary crushing productivity, low energy consumption, good dust resistance, long service life of quick-wear components, low accessories cost, high operation rate and convenient maintenance.
The raw material of compound crusher is very easy to get, for example, pebble, river sand, mountain rocks, mining tailings and other resources can be recycled and turned into precious resources. Here we introduce the efficient tertiary crusher's technological process generally: in order to remove the dirt, light materials and paint powder, the dry type production adopts the coarse and fine materials classifier; the wet type production adopts sand washer. We should choose dry type production or wet type production according to the actual situation and the local climate. The traditional sand making machines includes hammer crusher, impact crusher, cone crusher and jaw crusher, while, now the compound crusher is becoming the customer's first choice because of its high sand making productivity and low cost.
Hongxing Machinery produces qualified and advanced compound crusher and the related mining machinery, welcome your visiting and purchasing.