How to Configure an Efficient Sand Production Line?
7/4/2014 12:32:18 AM
Sand production line is composed of jaw crusher, impact crusher, efficient tertiary crusher, vibrating screen, sand washing machine, belt conveyor and other devices. Faced with the situation that natural sand is less and less, we should produce artificial sand to satisfy the increasing market. It has features like good shape of final products, high sand rate, regulatable fineness and low production cost.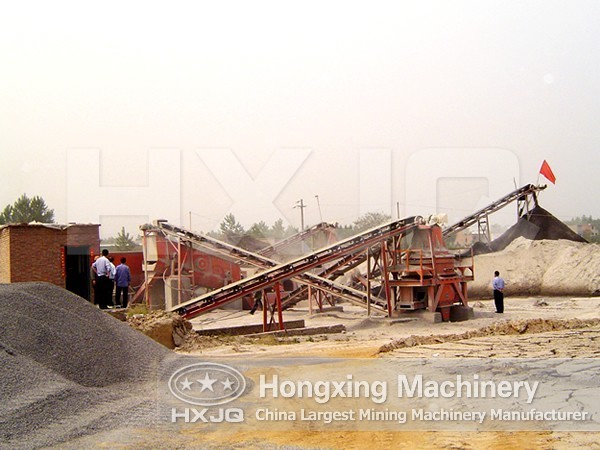 The artificial sand production line has a complicated structure because it is composed of many machines. So it is easy to have problems during production, among which the jamming problem is the most common. The reason of jamming is too fast feeding or inappropriate transmission device configuration.
1. We should clean the air supply outlet timely and regulate the transmission device when jamming happens.
2. Too fast feeding of materials also will cause jamming of sand production line. We should know that too fast feeding will increase the machine's load and easy to cause jamming.
During feeding, we should pay attention to the electricity, namely the deflection angle of ammeter pointer shouldn't be too large. If the required electric current is surpassed, it means the electric motor is overloaded. If it is overloaded for a long time, the electric motor will be burned. In this situation, we should reduce or shut the materials door or change the feeding style.
The Working Process of Sand Production Line Is as Follows:
First, the rocks are coarsely crushed by crushers, and then the coarse materials are transmitted by belt conveyor to tertiary crusher and receive the second crushing. The products after tertiary crushing can be divided into two kinds: the qualified sand will enter into sand making machine, while the unqualified sand will return to tertiary crusher.
So why should we configure the high-performance sand production line, and will it definitely improve its quality and quantity?
The sand production line has high automatic degree, low functioning cost and high reduction ratio. So the good configuration of it will definitely bring good economic benefit. The general process is (stock bin) - feeder - jaw crusher - impact crusher - vibrating screen - (finished products).