Hammer Crusher is a Sharpshooter in Sand Production Line
5/12/2015 3:17:12 AM
Crushers play an important role in the development of mining machinery, and it is not only the basis of social economic construction, but also the solid backing for the drastic development of construction industry. In the production of hammer crusher, Hongxing Machinery always insists that quality is the precondition to win customers approval. For the production process, the hammer crusher is the collection of many kinds of crushers' advantages. For example, the hammer adopts high manganese steel as raw material, which not only has high wear resistance, but also can improve the work efficiency in operation. Therefore, hammer crusher is a sharpshooter in sand production line.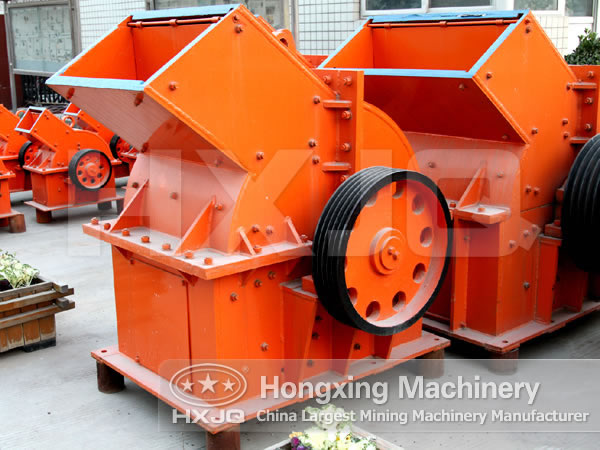 Crusher equipment, sand making machine and other large scaled equipment such as sand production line have made lots of contributions to the rapid development of economy in China today. The sandstone aggregates is widely used as essential raw materials in the development of infrastructure construction. The infrastructure construction consumes a large amount of natural sand during its high speed development and even once led to natural sand shortage in the market. Hence, high-quality sandstone aggregates must be coordinated with the development of infrastructure construction.
Hammer crusher is the special crusher equipment for breaking medium-hardness stone, occupying the market with its unique characteristics. Hongxing Machinery hammer crushers are of big feeding particle size and small discharging size, which completely accomplish the low investment operation mode by one machine serving for multi-purpose. Our hammer crusher adopts full automation in production and operation and brings unprecedented convenience for crusher manufacturers and users.
The hammer crusher promotes the technical progress and development of crusher industry in China, and the new generation of hammer crusher has made up the shortcomings of the traditional production process and has effectively improved the service life of the hammer, achieving major breakthroughs and high production efficiency. The development of hammer crusher is also the result of the hard struggle of numerous mining machinery enterprises.