Hongxing Machinery Launches a New Version of Jaw Crusher
5/24/2015 7:44:31 PM
The world-leading HD version of jaw crusher developed by Hongxing Machinery owns completely independent intellectual property rights. Its appearance has broken the monopoly position of foreign large sized jaw crusher in mining beneficiation plants and large scaled sandstone factories. The HD German version of jaw crusher has excellent performance and high productivity. The optimizing design on moving jaw movement locus and cavity mould determines the optimum meshing angle and its route characteristic value and makes the output greatly increased under the condition of the same power, and the stability higher.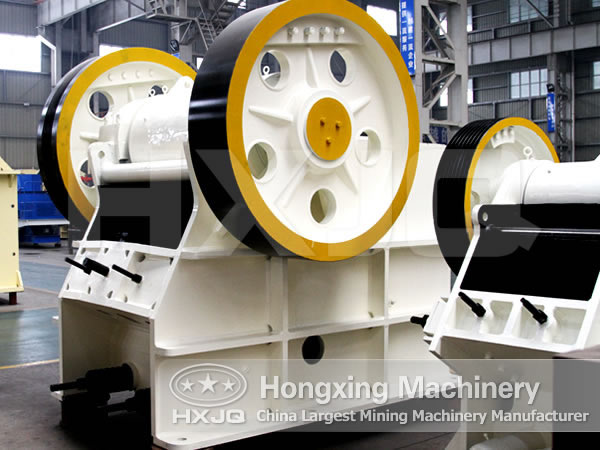 Through optimizing the overall structure of the model and the balancing part to determine the structure of flywheel and geneva wheel and the weight of the balancing weight, it makes the HD version of jaw crusher greatly improved in terms of vibration damping. Compared with other jaw crushers of the same specifications, it has higher stability and reliability. The forging eccentric shaft through heat treatment, super bearing, rack, labyrinth seal and etc. make the equipment more sturdy and durable and reliable, easy to operate and convenient to maintain. Advanced side fender bolt fixation system makes it faster when to replace side fender; The reasonable machine structure makes it more convenient in adjusting the discharge port and changing the lining plate, which can effectively shorten the time required for operation and maintenance.
As one of the outstanding suppliers in the world of sandstone aggregate machinery for infrastructure construction, Hongxing Machinery takes the lead in this industry in obtaining international quality system certification of ISO9001:2008, the European Union CE certification and Russian GOST certification, and keeps supplying high-quality sandstone aggregates production equipment continuously throughout the world. Our jaw crusher, hydraulic cone crusher, impact crusher, sand making machine and mobile crusher are deeply recognized worldwide.
The HD version of jaw crusher manufactured by Henan Hongxing Mining Machinery Co., Ltd., has been widely applied in Hainan Sandstone Factory, Sichuan Guangyuan Quarry Plant, Limonite Ore Dressing Plant in Russia, Hebei Langfang Sandstone Factory, Shandong Zibo Jiulong Aggregate Plant, etc. Its large production capacity and high production efficiency has won numerous customers' preference!