How Does the Mobile Crushing Station Reduce Production Cost?
8/16/2015 8:03:15 PM
We are frequently asked that can the mobile station really reduce production cost? And from what aspects? Which mobile crushing station is better?
According to different demands, Hongxing mobile crushing equipment is divided into rubber tyred mobile crushing station and crawler mobile crushing station. Rubber tyred mobile crushing station needs vehicle to provide traction. This type of mobile crushing station is convenient for marching on the general roads and also able to march forward on the rugged roads of the crushing sites. The crawler mobile crushing station uses the crawler type, fully rigid ship structure and fully hydraulic drive, which has an outstanding adaptability to mountain and wetland.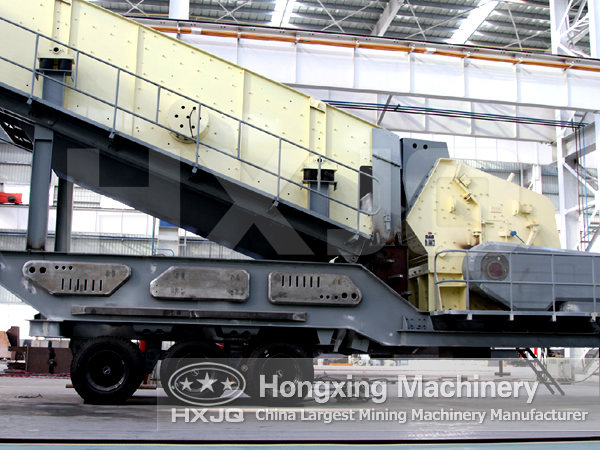 As regards the question that whose mobile crushing station is better, it requires our customers to stand on multiple viewpoints. First, look at the strength of the manufacturer. The professional manufacturers usually have access to their own R&D team and leading technologies. Second, see the product self. Customers should choose such equipment with excellent comprehensive functions, high stability, long operating life, high efficiency and large output. At last, pay attention to the service. A thorough after-sales service is very important, which determines whether the manufacturer is able to promptly supply various parts and is directly related to the continuity and stability of the production line.
The stationary crushing production line needs to be invested a large amount of time and money in the basic facility construction in the early stage. While mobile crushing station can directly drive to the scene to carry out the work. It is mobile and flexible, more convenient to move, and greatly reduces the delivery cost.