When Compound Crusher Breaks down, How to Deal with It?
9/16/2015 7:35:24 PM
Compound crusher is widely used in the secondary and fine crushing operations of all kinds of ores, cement, refractory materials, bauxite clinker, silicon carbide, glass raw materials and many other high- hardness and high-rigidity materials. After a long-term operation, no matter compound crusher or hammer crusher and jaw crusher, all of them may encounter with some failures. There are generally five types of faults which often happen on compound crusher.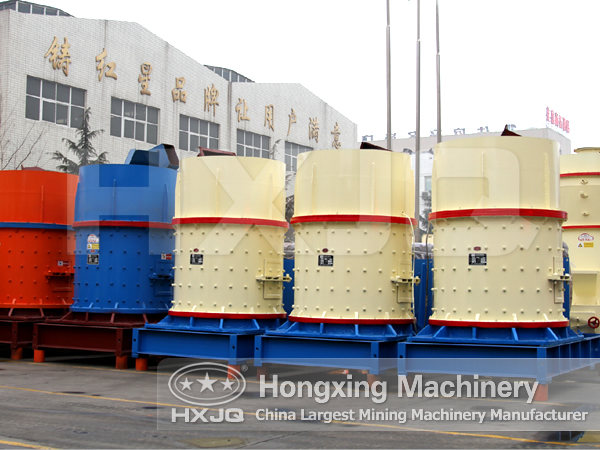 1. Serious vibration and noise. When this case happens, we should close down the crusher immediately and check the crushing cavity, to see if there is any article that the crusher is not able to crush, for example, metals. And then check the lining board falling off or not.
2. Excessive particle size. When this situation occurs, we should check the hammer head and lining board first, if they are seriously worn, we should replace them in time; Then adjust the back rack to make its both sides and the rack achieve an appropriately clearance, so as to ensure the required discharging granularity.
3. Hammer head failures. Crusher's hammer head is liable to wear and tear and needs to change at fixed period. When the crusher is working, it shouldn't be used to break materials beyond its bearing limitation or kept running under overload.
4. Bearing overheat. Bearing overheat generally has a direct relationship with lubrication, so we need to clean the bearings regularly and add lubricating oil quantitatively.
5. The belt is loose or too tight. Once loose is found, we should adjust the belt immediately. Under the condition of a long-term use or material blockage resulted by overload, it may lead the belt into sliding friction and combusting.
If one of these five situations occurs, customers needn't try so hard. What we should do is to shut down instantly and try to troubleshoot. After the equipment is fixed well, then put the compound crusher into normal use again. Only the crusher works soundly, can it bring more profits to our customers.