Fluorite Ore Flotation Machine Has Outstanding Strengths
4/21/2016 11:38:36 PM
Fluorite ore flotation machine adopts a new-type impeller which is of a conical profile and leans backward to a certain angle, similar to the high-specific-speed centrifugal pump impeller. Fluorite ore flotation machine has a large pulp-conveying volume, small pressure head, low power consumption and simple structure. Besides, it has a strong stirring power, stable performance and reliable operation.
Fluorite ore flotation machine makes use of the impeller-stator system as a blender to realize aeration and agitation. There is also equipped with a porous cylindrical air distributor in the impeller chamber in order to make the air evenly dispersed in advance in most area near the impeller blades and provide a larger interface of the pulp and air.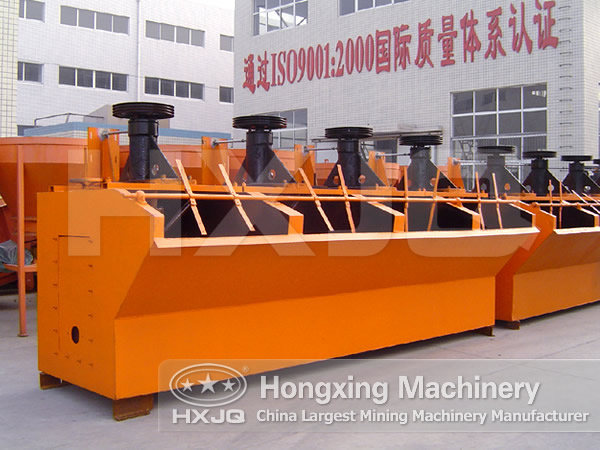 Product strengths:
1. Advanced accessories. Fluorite ore flotation machine has a stock inlet and strobe unit to adjust the pulp surface. It is mainly composed of the cell welded by steel plate and the strobe welded by steel plate and steel rod.
2. Strong stirring power. Fluorite ore agitation flotation machine can guarantee those ore particles with large density and big granularity suspending and facilitate the indissolvable agent to disperse.
3. Stable performance. Fluorite ore flotation machine has a large inflating volume, stable liquid surface good separation indexes and is convenient for adjustment and conductive to productivity increase and process adjustment.
4. High abrasion resistance. The impeller is used for stirring the pulp and preventing the minerals from precipitating in the bottom of the cell. This mechanism is generally composed by belt pulley, impeller and perpendicular shaft. The impeller is made of wear-resisting rubber, so it has an extremely high wear resistant ability at work.