Introduction of Stone Production Line
Stone production line is also known as rock crushing plant. It is the special production line for making sand and stone used in construction, road and railway.
The stone crushing equipments consist of jaw crusher, stone crusher, impact crusher, vibrating feeder, vibrating screen, sand washer, and belt conveyor, etc. The equipment manufactured by our company has the advantages of reliable performance, reasonable design, easy operation and high efficiency.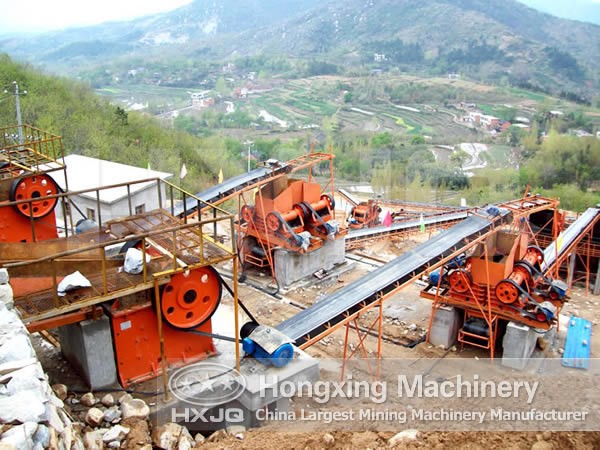 The production capacity of this stone crushing plant mainly varies between 50-800TPH. And in order to meet the different demands of customers, the stone production line can be equipped with cone crusher, dust removal equipment and other equipment. It is suitable for the materials such as hard limestone, granite, basalt, pebble, metallurgy slag and artificial sand. It is widely used in the industries of hydroelectric, building materials, highway, and urban construction.

Characteristics of Stone/Rock Crushing Plant
1. Stone crushing production line has the following characteristics: high automation, high compression ratio, high efficiency, large processing quantity, cubic shape of finished product with little needle and slice shaped products, high compression strength without inner crack.
2. This rock crushing plant is easy to maintain and repair and the easy wearing parts are made from abrasion-proof materials with domestic advanced high level.
3. Stone crushing production lines designed by our company are successfully applied in limestone, basalt, granite and pebble; the finished product reaches the standard of GB14685-2001; they can be the best aggregate for highway, railway, water conservancy and concrete mixing station.